_
MUSEUM COLLECTION
HISTORY
SPECIFICATIONS
AIRCRAFT ON DISPLAY
UNIT HISTORY
PHOTOS
_
McDONNELL F-4C PHANTOM II
Crew: Western Air Defense Sector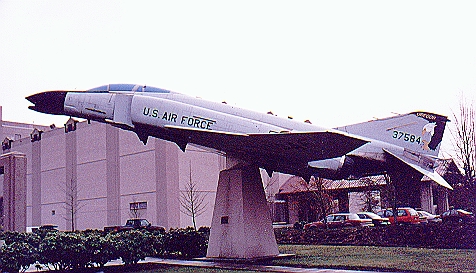 ON DISPLAY AT WADS HQ
_
HISTORY
The venerable Phantom design dates back to 1955 when the US Navy requested a fleet defense fighter with a powerful radar and armed only with air-to-air missiles, designated F4H early in its Navy service. In 1961, the Air Force conducted an evaluation of the F4H code named Operation Highspeed and realized that the Phantom, with its outstanding flight performance and payload, was superior to any of its own aircraft in use at the time.

In 1962 the Air Force was granted approval for the procurement of F4H-1 derivatives for the Air Force under the designation F-110 Spectre. There would be 2 versions, a tactical fighter version (F-110A), and a tactical reconnaissance version (RF-110A). On September 18, 1962, the Defense Department ordered that all Air Force, Army, and Navy aircraft be designated under a common, universal system. Because of this directive the Navy F4H-1 Phantom was redesignated F-4B, and the Air Force F-110A became known as F-4C At the same time, the separate name Spectre for the USAF's version was eliminated, both Air Force and Navy F-4s were to be named Phantom II.

The first production F-4C took off on its maiden flight on May 27, 1963. The 12th TFW became the first operational user of the F-4C in January 1964,

replacing the unit's F-84F Thunderstreaks. A total of 583 F-4Cs were built. The last F-4C rolled off the production line on May 4, 1966.

In 1965, the 15th TFW deployed its 45th TFS to Thailand. On July 10, 1965, two F-4C crews scored the USAF's first kills of the Vietnam War when they destroyed two MiG-17s with Sidewinder missiles. In time, the F-4C took over the bulk of the heavy fighting over North and South Vietnam. The F-4C had no built-in cannon armament. Four AIM-7D or -7E Sparrow missiles could be mounted in recesses underneath the fuselage Four AIM-4D Falcon or AIM-9B or -9D Sidewinder infrared homing air-to-air missiles could be carried externally on the inboard underwing pylon. In later years, the lack of an internal gun came to be a problem, and a centerline SUU-16/A pod containing an M61A1 gun and 1200 rounds of ammunition was fitted underneath the fuselage.

As F-4Cs were superseded in front-line service by F-4D/E, they were transferred to ANG & AFRES units beginning in 1972. Four ANG Fighter- Interceptor Squadrons, 3 F-101 VooDoo, and one F-106 Delta Dart unit began their conversions to F-4C in 1978.The last Air Force squadron to fly the F-4C, the 123rd FIS of the Oregon ANG, exchanged its F-4Cs for F-15s in the spring of 1989.
TOP OF PAGE
SPECIFICATIONS
_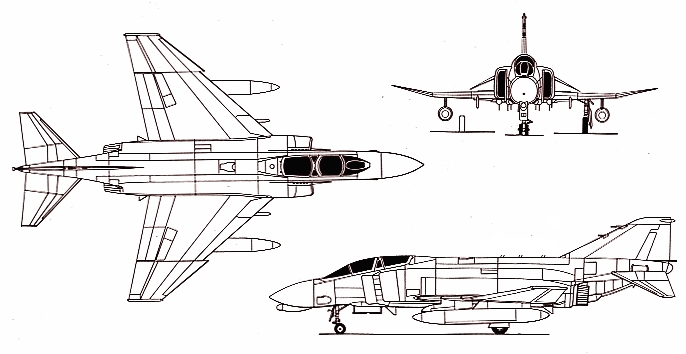 TYPE: All – weather multi-role fighter

POWER: Two General Electric J-79-GE-15s with 17,000 lbs thrust

SPEED: 1,433 mph (Mach 2.2)

RANGE: 1,750 miles (1979 gal of internal fuel and one 600-gallon centerline drop tank and two 370-gallon drop tanks underneath each wing.

SERVICE CEILING: 56,100 feet

WEIGHT: Empty 28,496 lbs, Combat 38,352 lbs, Max Take off 58,000lbs

DIMENSIONS: Span 38 feet 5 in (27 ft. 6 in. folded), Length 58 ft 3 3/4 in, Height 16 ft 3 in.

ARMAMENT: Four AIM-7 Sparrow semi active radar homing missiles in under fuselage recesses, four AIM-9 Sidewinder infrared homing missiles on two Inner underling pylons, one ( two or three) SUU-16/A (later -23/A) pod housing a M61A1 cannon and 1200 rounds of ammunition , In ground attack mode, could carry as much as 16,000 pounds of ordnance on centerline pylon underneath the fuselage and on four under wing hardpoints.

CREW: Pilot and Weapons Systems Operator

PRODUCTION TOTALS: 2 (F-110A), 583 (F-4C), 793 (F-4D)

COST: $ 1,900,00.00

McCHORD BASED UNITS: NONE - 25th AD Units (not based at McChord)(F-4C) - 123d FIS/142d FIG, Portland IAP, OR-ANG (1982-1984),(F-4D)- 194th FIS/144th FIG Fresno IAP, CA-ANG (1987-1989)

, 178th FIS/119th FIG, Fargo ND-ANG, (1982- 1989) - Replacement Training Unit - 114th TFTS Kingsley FLD OR-ANG
TOP OF PAGE
F
-4C
S/N
63-7584
_

_
After serving in combat in the sky's of Southeast Asia, F-4C S/N 63-7584 returned the United States in January 1970. Shown here with its second stateside unit, the 58th Tactical Fighter Training Wing, based at Luke AFB, AZ, the aircraft was assigned to the 58th's Commander, in this case double MiG killer Brig Gen Fred Haeffner.
TOP OF PAGE
U
NIT HISTORY
14 AUGUST 1964
Completed by McDonnell Aircraft Company St Louis, MO.
14 AUGUST 1964
Delivered to 15th Tactical Fighter Wing, MacDill AFB, FL
(Tactical Air Command )
APRIL 1962
To 366th Tactical Fighter Wing, Holloman AFB, NM
(Tactical Air Command )
OCTOBER 1967
To 39th Air Division, Misawa Air Base, Japan
(Pacific Air Forces )
JANUARY 1968
To 475th
Tactical
Fighter Wing, Misawa Air Base, Japan
(with deployments at Kunsan and Taegu AB's in support of the
Pueblo Crisis)
(Pacific Air Forces )
JANUARY 1970
To
4453rd Combat Crew Training Wing, Davis-Monthan , AZ
(Tactical Air Command )
JULY 1971
To
355th Tactical Fighter Wing, Davis-Monthan , AZ
(Tactical Air Command )
AUGUST 1971
To
58th Tactical Fighter Training Wing, Luke AFB, AZ
(Tactical Air Command )
16 FEBRUARY 1977
To Sacramento Air Material Area, McClellan AFB, CA, for depot-level maintenance
( Air Material Command )
OCTOBER 1982
To 111th Fighter-Interceptor Sqdn, 147th Fighter-Interceptor Gp, Ellington ANGB, TX,
(Air National Guard)
MAY 1985
To 114th Tactical Fighter Training Squadron, 142d Fighter Interceptor Group,
Kingsley FLD, OR
(Air National Guard )
JULY 1988
Retired, Kingsley Fld, OR
( Air National Guard )
01 NOVEMBER 1983
Loaned to 25th Air Division, McChord AFB, WA for display
(mounted on a pedestal in front of 25th AD Headquarters)
(United States Air Force Museum Program)
TOP OF PAGE
A
DDITIONAL PHOTOS
TOP OF PAGE
Website provided and maintained by:
The McChord Air Museum Foundation
P.O. Box 4205
McChord AFB, WA. 98438-0205
253-982-2485
e-mail - mamfound@mcchordairmuseum.org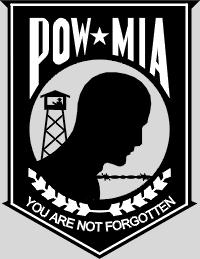 TOP OF PAGE

TO MUSEUM COLLECTION PAGE
_