MUSEUM COLLECTION
HISTORY
SPECIFICATIONS
AIRCRAFT ON DISPLAY
UNIT HISTORY
PHOTOS
KAMAN HH-43A HUSKIE
Crew Chief: Open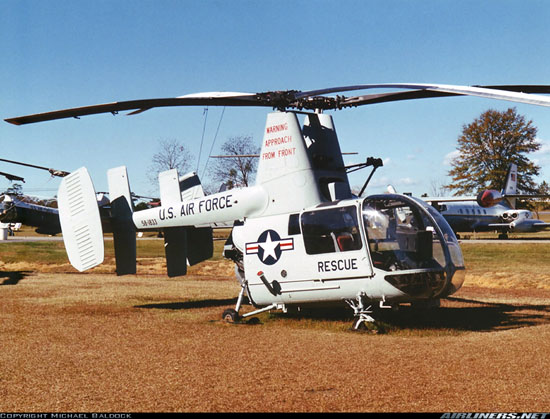 NOT ON DISPLAY
HISTORY
The H-43 was the first Kaman product purchased in quantity by the USAF and the first helicopter purchased for an airborne fire fighting and crash rescue role. Air Force evaluation of existing helicopter designs suitable for this job led to the choice of the Kaman 600, which was in production for the US Navy as the HOK-1. An initial production batch of 18 were ordered, differing only from the Navy model in equipment; first flown on 19 September 1958, and they were delivered as H-43As from November 1958 to mid-1959. These aircraft, powered by Pratt & Whitney R-1340-48 piston engines, were assigned to the Tactical Air Command bases and served until 1961.
To improve the performance, and especially the load-carrying capability of the basic H-43A design, the H-43B was developed with a Lycoming T53-L-1A turbine engine. Experience had been obtained with this power unit when the HOK-1 had been modified on a USAF contract and the first prototype flew on 27 September 1956. It was this improved variant of the HH-43 that, in 1961 & 1962, was used to establish seven world records for helicopters in its class for rate of climb, altitude, and distance traveled.
The USAF originally ordered 116 of the H-43B version and deliveries began in June 1959. Further contracts brought the total of this variant built for the USAF to 203, including some for MAP use overseas. The H-43Bs were assigned to bases of all flying commands throughout the continental U.S. for crash and fire rescue missions.
In mid-1962 the USAF changed the H-43 designation to HH-43 to reflect the aircraft's rescue role.
In addition, some H-43Bs were modified and later production H-43Fs all HH-43 were eventually replaced by newer aircraft in the early 1970s with the last entering storage in the Arizona "Boneyard" in 1975.
Huskies on Local Base Rescue Alert could be airborne in approximately one minute often reaching crashed airplanes before ground vehicles arrived. The powerful downwash from the HH-43's twin rotors would open a path through the flames for rescuers to the trapped crash victims.
On a typical Local Base Rescue Alert mission (HH-43B/F), a standard crew would consisted of a Pilot, Copilot, Flight Engineer/Crew Chief, Aero Medical Technician, and two Airborne Rescuemen/Firefighters. The Flight Engineer/Crew Chief usually remained on the ground to launch the aircraft and connect the Fire Suppression Kit Fire Suppression Kit to a cargo sling located on the belly of his HH-43. If the rescue mission did not involve an aircraft bailout, the Airborne, the Flight Engineer and Medical Technician would usually replace two Airborne Rescuemen/Firefighters as the primary Aircrew Recovery personnel.
On January 20, 1961 the first H-43B Huskie arrived to McChord replacing the long serving H-19's of the 325th Operations Group. During June 1961, the HH-43 helicopters, crews, and support personnel of the various major commands were reassigned from their respective home bases and host wings to the Air Rescue Service in an attempt to unify their command structure, HH-43's at McChord would be redesignated as Det. 5 of the newly established Western Air Rescue Center.
Beginning in 1964, HH-43 and personnel were slowly drawn way to support the Combat Search and Rescue (CSAR) mission in Southeast Asia, by 1969 all H-43 were reassigned to units in the SEA Theater of action. The Huskie would return to McChord as Det. 7 of 42nd Aerospace Rescue and Recovery Squadron, 39th Aerospace Rescue and Recovery Wing. In their SEA camouflage from their wartime assignments McChord HH-43's would serve the people of the Northwest until the aircraft were withdrawn in December of 1972.
After their Military service, some H-43 entered civilian hands including five that saw service with Washington State Department of Natural Resources from 1974 to 1980.
TOP OF PAGE
_
SPECIFICATIONS
__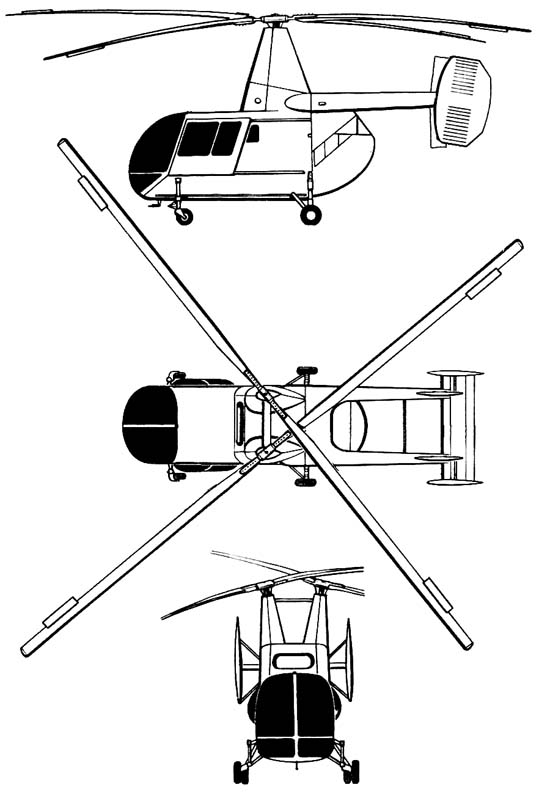 _
TOP OF PAGE
_
HH-43A S/N 58-1833
_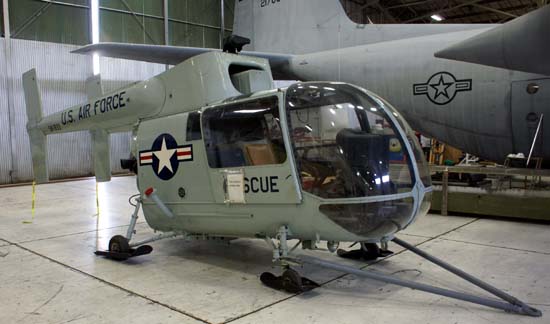 x
In October
of 2013, McChord Air Museum received HH-43A 58-1833 from the Museum of Aviation at Warner Robins AFB, GA. This early model of the Huskie is one of a very small number to remaining. Of the 18 HH-43A's manufactured for the Air Force two remain (one under restoration in civilian hands).
TOP OF PAGE
_
U
NIT HISTORY
1959
Completed by Kaman Aircraft Corporation, Windsor Locks, CT
MAY 1959
To 3510th Flying Training Wing, Randolph AFB, TX
(Air Training Command)
UNKNOWN
To Air Force Proving Ground Center, Eglin AFB, FL
(Tactical Air Command)
1963
Removed from Service
1967
Dropped from inventory, recoded N2850J
1967
To the
Florence Air & Missile Museum, Florence, SC
1986
To The Museum Of Aviation, Warner Robins AFB, GA
OCTOBER 2013
To McChord Air Museum, McChord AFB, WA.
(United States Air Force Museum Program)
TOP OF PAGE
_
A
DDITIONAL PHOTOS
TOP OF PAGE
_
Website provided and maintained by:
The McChord Air Museum Foundation
P.O. Box 4205
McChord AFB, WA. 98438-0205
253-982-2485
e-mail - mamfound@mcchordairmuseum.org
TOP OF PAGE

TO MUSEUM COLLECTION PAGE
_