_

MUSEUM NEWS

THE RIP CHORD ONLINE - McCHORD AIR MUSEUMS ONLINE NEWSLETTER
7 AUGUST 2004
McChord Museum Foundation's
2004 Volunteer Picnic
By Herb Mellor, McChord Air Museum Foundation President
This yearís picnic for our volunteers was enjoyed by all of those in attendance. Once again the weather cooperated, as the afternoon of Saturday 7, August, featured very pleasant temperatures and partly sunny skies. As is our custom, service plaques were presented to volunteers for their support of the Museum. Priscilla Huber (below left) was awarded a 10-year plaque and Harrison Longshaw (below right) was presented a 5-year plaque. We were also delighted to have Colonel Wayne A. Schatz, Jr., Commander 62d Airlift Wing, presenting this years awards.

Also to be recognized are the following individuals who were unable to be present: Gary Bowen, 10-year plaque, Cy Reck, 10-year plaque, Rodney Wilson, 5-year plaque.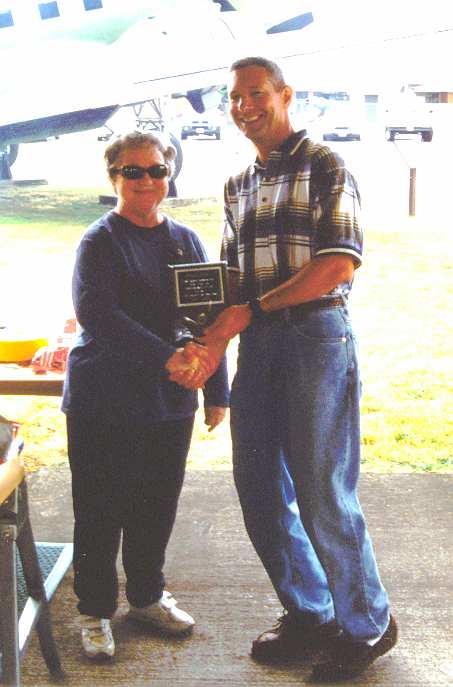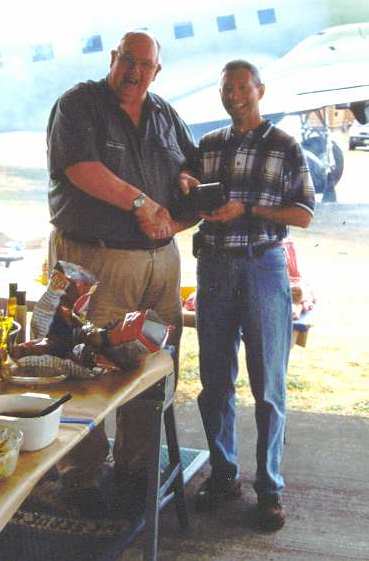 Priscilla Huber with Col. Schatz
Harrison Longshaw with Col. Schatz
Special recognition was afforded Chuck Bowen for his considerable contributions in support of various Museum programs. In addition to his many years as the C-124 Crew Chief, he has also supervised the restoration of the former McChord control tower and is currently serving as the PBY Crew Chief. As he has done in the past, Cy Reck composed an outstanding framed collage highlighting Chuckís service to the Museum.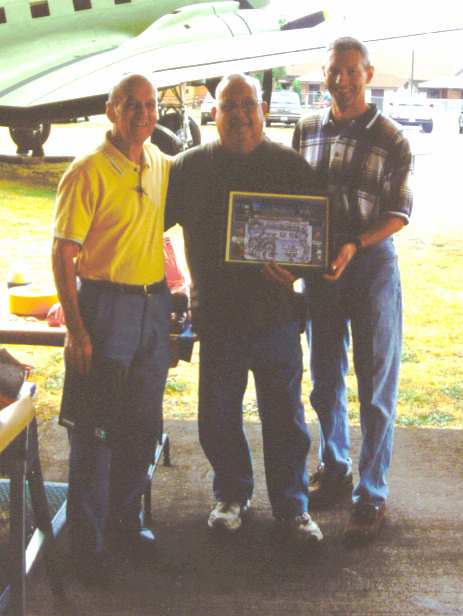 Foundation President Col. Herb Mellor (Ret) (l) and 62d AW Commander Col . Schatz pose with MSgt. Chuck Bowen (Ret) after being presented a special recognition collage.
Fran McGregor, President of the McChord AFB Chapter of the Air Force Association, presented a check from the chapter to the McChord Air Museum Foundation to assist in support of the Museumís programs. The Foundation is very appreciative of the chapterís generosity.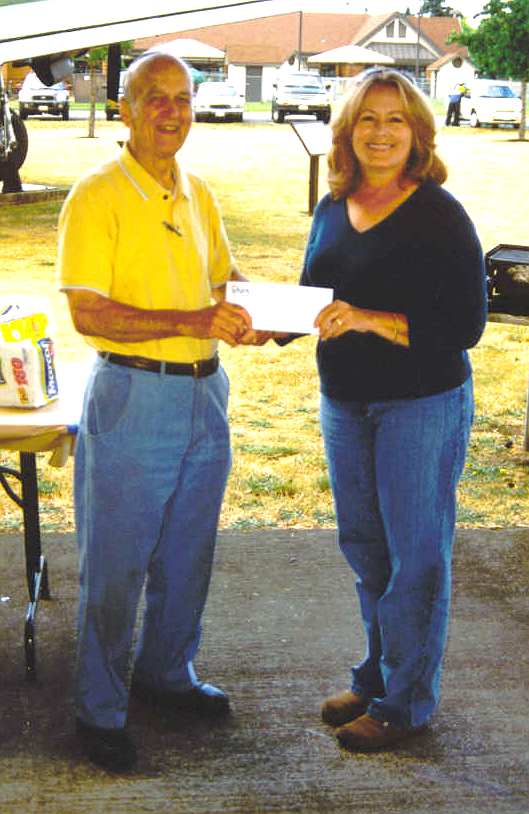 Herb Mellor and Fran McGregor, AFA President (McChord AFB Chapter) pose with the donation check from the Chapter to the McChord Air Museum Foundation.
We want to acknowledge several volunteers who, during steady rain on Friday set up the large canopy and then put together the tables for Saturdays festivities: Clarence Bevier, Chuck Bowen, Herb Mellor, Carl Miller, Bill Olsen, and Larry Williams.

Howard Collect, Danyll Devey, and Ernie White assisted the volunteers listed above in accomplishing the necessary post picnic cleanup . Our appreciation to all of you.
Thanks again to all of the dedicated volunteers who, year in and year out give of their to assure that the museum program is a viable one.
Website provided and maintained by:
The McChord Air Museum Foundation
P.O. Box 4205
McChord AFB, WA. 98438-0205
253-982-2485
e-mail - mamfound@mcchordairmuseum.org