_

MUSEUM NEWS

THE RIP CHORD ONLINE - McCHORD AIR MUSEUMS ONLINE NEWSLETTER
23 JULY 2005
McChord Museum Foundation's
2005 Volunteer Picnic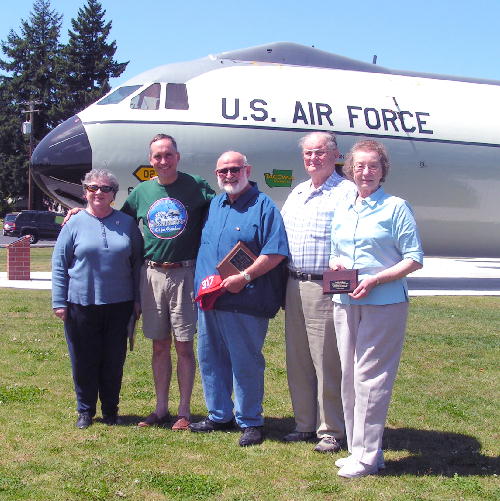 Photo By Ernest white, ii M

c

CHORD AIR MUSEUM
Priscilla Huber, Colonel Rick Martin, 62d AW Vice Commander and Director of the McChord Air museum, Ken Roberts, Howard and Luella Collicott pose in front of the Museumís C-141 after presentation of Volunteers plaques by Col Martin.
By Herb Mellor, McChord Air Museum Foundation President
On Saturday, 23 July 2005 many of the Museum volunteers gathered for the annual picnic at the Heritage Hill picnic venue. Not only was the weather perfect, but a C-17 put on a bit of a show of itís own practicing low visibility approaches and full-stop landings. The aircraft also demonstrated its backing up ability.

The relatively new Heritage Hill picnic shelter proved to be an outstanding facility for this event. Once again five and ten-year awards were presented to some of the Volunteers. We were pleased to have Colonel Fredrick Martin make the presentations.

The following individuals received the ten-year award:

Howard Collicott (Foundation Administrator), Priscilla Huber (Docent), Ken Roberts

(Aircraft Restoration). Luella Collicott received a five-year award for her work in the museum library and other administrator areas.

Howard and Luella continue to work twice a week updating the museum inventory, plus a variety of other administrative projects. Pricilla has been a docent for over a decade, for which we are grateful. Ken Roberts has devoted his skills in the area of

restoration for some of the museums fighters.

Unable to attend to receive his 20-year award was Richard Fraser, who later received his plaque at the Foundation Board meeting on 27 July 2005. For years he has been the C-47 Crew Chief and has served as a docent on a weekly basis for a long period of time. Richard also assisted in the restoration of the Museums Control Tower.

Also receiving a plaque at the meeting was Leonard Vail, who recognized for ten-years of service. He is a member of the B-18 restoration crew, where he has donated his considerable talent as a machinist.

A special acknowledgment goes to the following individuals who took the task of setting up the tables and chairs in the picnic shelter: Chuck Bowen, Bill Olson, Carl Miller, Larry Williams. After the picnic these four volunteers and Paul Bastin, Levi Wares, and Ernie White accomplished the return of the tables and chairs.

Our thanks to all of these dedicated people who support the museum with their time and special Talents.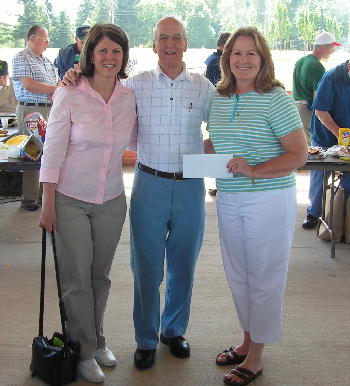 Photo By Ernest white, ii M

c

CHORD AIR MUSEUM
Carlene Joseph, Harborstone CU Manager, Foundation & AFA Treasurer, Herb Mellor Foundation President and Fran McGregor, AFA President (McChord AFB Chapter) pose with the donation check from the Chapter to the McChord Air Museum Foundation.
Website provided and maintained by:
The McChord Air Museum Foundation
P.O. Box 4205
McChord AFB, WA. 98438-0205
253-982-2485
e-mail - mamfound@mcchordairmuseum.org