20 JULY 2008
Museum shines at 2008 McChord Air Expo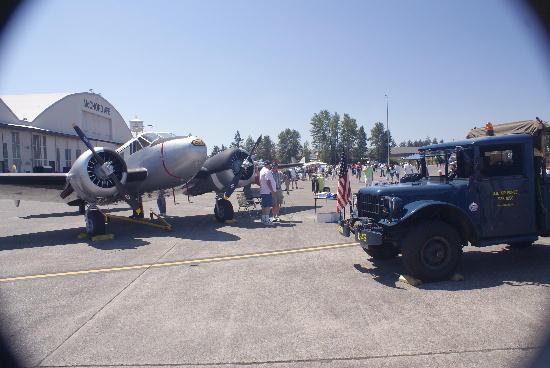 Photo By Ernest White / mcchord air museum foundation
The Museum's freshly painted C-45 shines in the sun by a 1953 Dodge Weapons Carrier at the 2008 McChord Air Expo.
Story by Herb Mellor, President of the McChord Air Museum Foundation.
During the weekend of 19-20 July 2008, the 62d Airlift Wing hosted another outstanding Air Fair and Open House featuring the magnificent Thunderbirds and other examples of talented airmanship. The static displays were not only interesting, but more important, of an educational nature.
With exception of the Catalina OA-10 (being restored), all of the Museum aircraft were available for viewing throughout the weekend. Thanks to long tome member Chuck Bowen, all museum volunteers were wearing new t-shit\rts - and they looked great. Thanks Chuck, for your generosity and your years of service on behalf of the Museum.
Recently painted, the museum's B-18 and the C-45 drew quite a crowd of visitors. Our appreciation to the 62d Corrosion Control Facility for their professionalism in making these two aircraft look like new once again.
Through not sited on the main base ramp area, the following aircraft were available for visitor inspection at the air park and Heritage Hill area:
Convair F-102A Delta Dagger
Convair F-106A Delta Dart
Douglas B-23 Dragon
Douglas (T)C-47
Douglas C-124C Globemaster II
Fairchild A-10A Thunderbolt II
Fairchild C-82 Packet
Lockheed C-141B StarLifter
Lockheed T-33 Shooting Star
McDonnell CF-101F VooDoo
McDonnell Douglas F-15A Eagle
North American F-86D Sabre Dog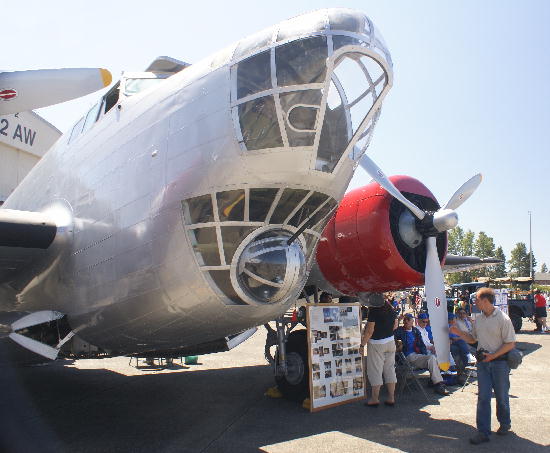 Photo By ERNEST WHITE / McCHORD AIR MUSEUM
The Museum B-18A Bolo was, always, a real crowd pleaser.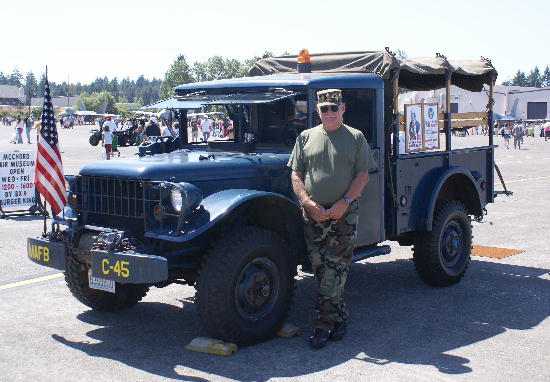 Photo By ERNEST WHITE / McCHORD AIR MUSEUM
Jim Bernethy, Crew Chief for the Museum's C-45, shows off his restored Korean War era 1953 Dodge Weapons Carrier painted in Air Force Blue.