THE RIP CHORD ONLINE - McCHORD AIR MUSEUMS ONLINE NEWSLETTER
08 AUGUST 2003
Rains fall -Thunderbirds soar.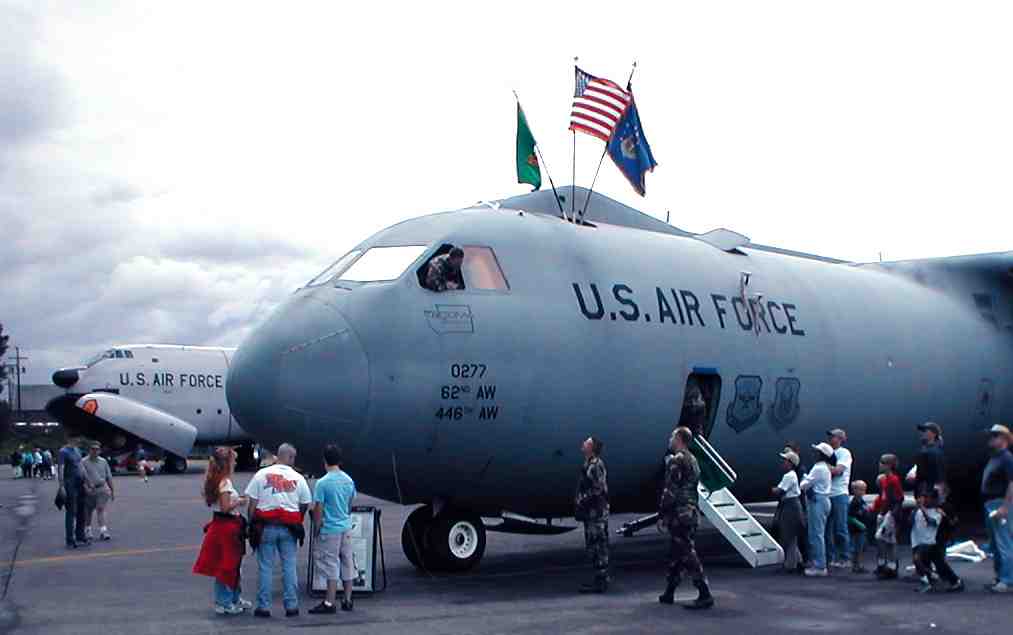 PHOTO BY ERNEST WHITE McCHORD AIR MUSEUM
Visitors battle the rain to tour the Museums C-124 (in the background) and C-141 (above). Members from the 446th AW manned the "Tacoma StarLifter" during the Air Expo.
After a 2 year hiatus more than 120,000 visitors walked though the gates of McChord AFB to enjoy this years edition of the Bases Air Expo featuring the USAF Thunderbirds. This year's show was limited to one day (Sunday June 13) because of worldwide commitments currently performed by members of the 62d and 446th Airlift Wings.

Museum volunteers with the C-124, members of the 446th AW manning the museums C-141 and 62 AW crew members manning one of their hard working C-17 Globemaster III's gave visitors their last chance to see three generations of airlift history on the McChord Ramps. It has been announced that that the C-124C Globemaster II, C141B Starlifter will soon be moved to McChord's "overlook hill" for permanent display making this the last time the two aircraft will be participating at the Air Expo.

Newcomers to the Expo was the Museums F-102 Delta Dagger,

BDU-12/B Nuclear Practice Bomb, BDU-32 Nuclear Loading practice bomb,

ATR-2 Nuclear Training Rocket

all

joined by one of the more common sights at McChord air shows, the Museums B-18 Bolo all under extensive restoration. Another restoration project highlighted at this years show was the F-106 Delta Dart restoration project named "Fix-A-Six" were many of the project fundraising items were made available to Airshow visitors. (Information on this project and fundraising items can be found on the FIX-A-SIX page on this site.)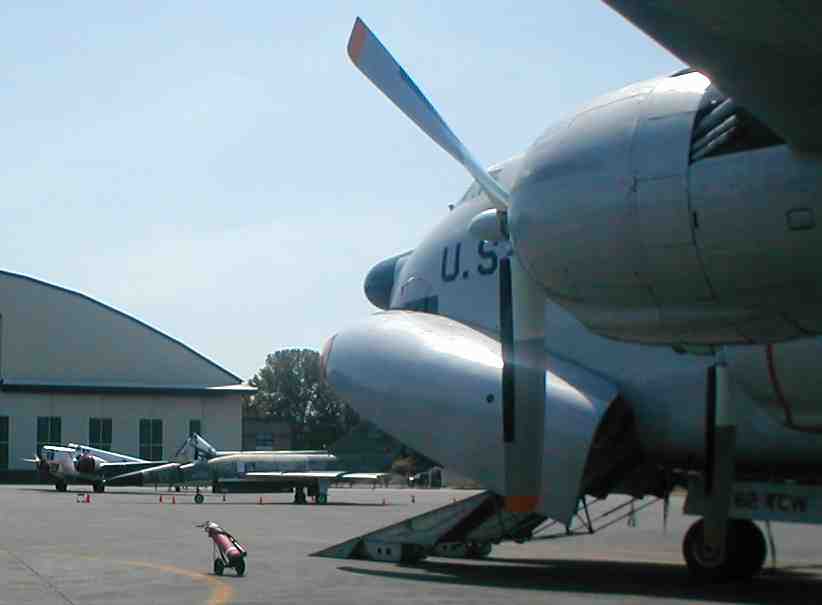 PHOTO BY ERNEST WHITE McCHORD AIR MUSEUM
The museums B-18 Bolo (l), F-102 Delta Dagger (c) and C-124 Globemaster II (r) were all on display at the 2003 McChord Air expo held on July 13.