_

OUR HISTORY

59-0141 - McCHORD'S LAST F-106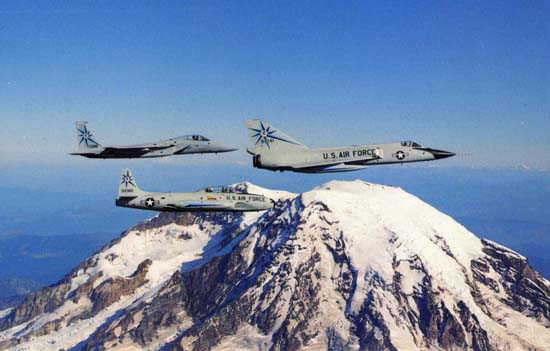 59-0141 in formation with a squadron T-33A T-Bird and a newly arrived F-15 Eagle.
CONVAIR F-106 DELTA DART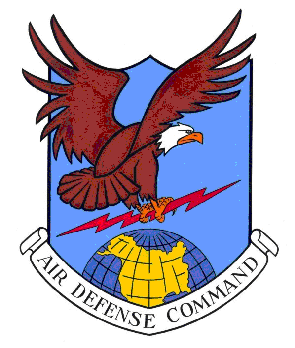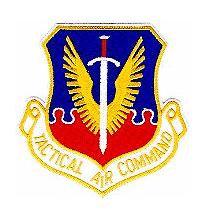 AIR DEFENSE
COMMAND
TACTICAL AIR
COMMAND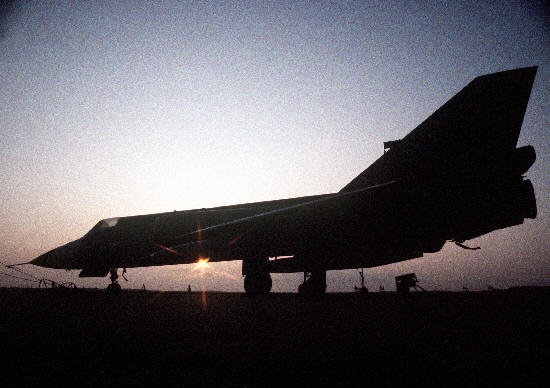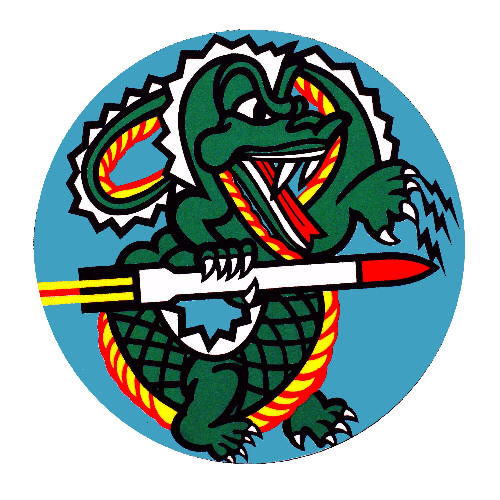 25th AD
318th FIS
498th FIS
325th FW
F-106A 59-0141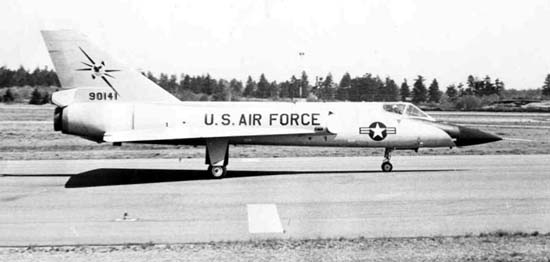 59-0141is shown in early 325th FW markings on the McChord taxiway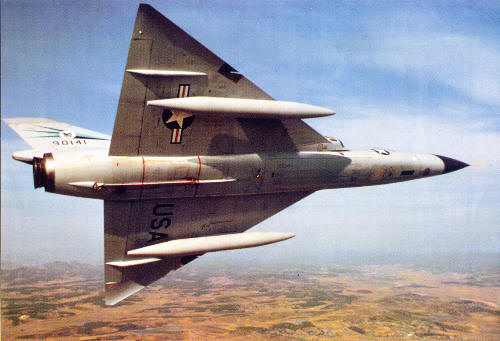 59-0141 breaks away from the camera in this late 1960 picture.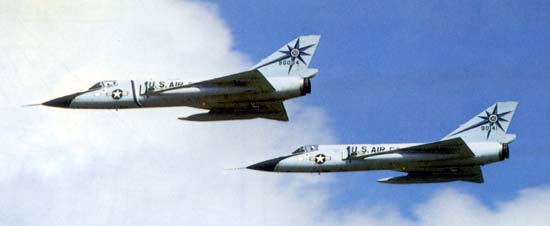 The 318th FIS flagship is seen in a two ship formation with -0141 in 1978.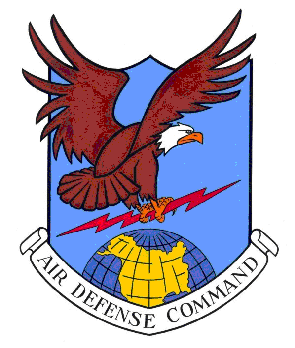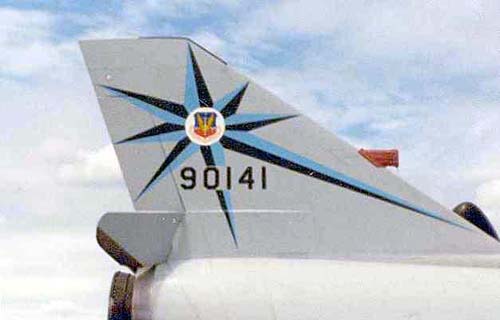 F-106 -0141 displaying the 318th FIS's signature "Starburst" tail design at its last public display. All markings painted on the squadrons F-106's were removed over the last few months before leaving McChord for other units or for storage.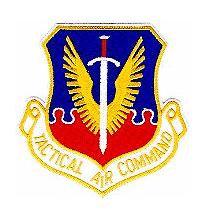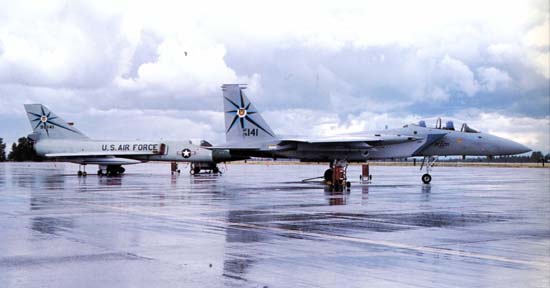 PHOTO BY DOUG REMINGTON
Two McChord 141's (no not C-141's), the last F-106 Delta Dart 59-0141 is pictured on the 318th ramp with the squadron's first F-15 Eagle 76-0141 shortly after the F-15B's arrival.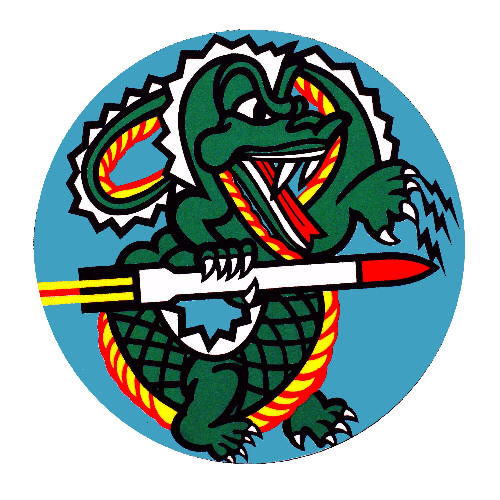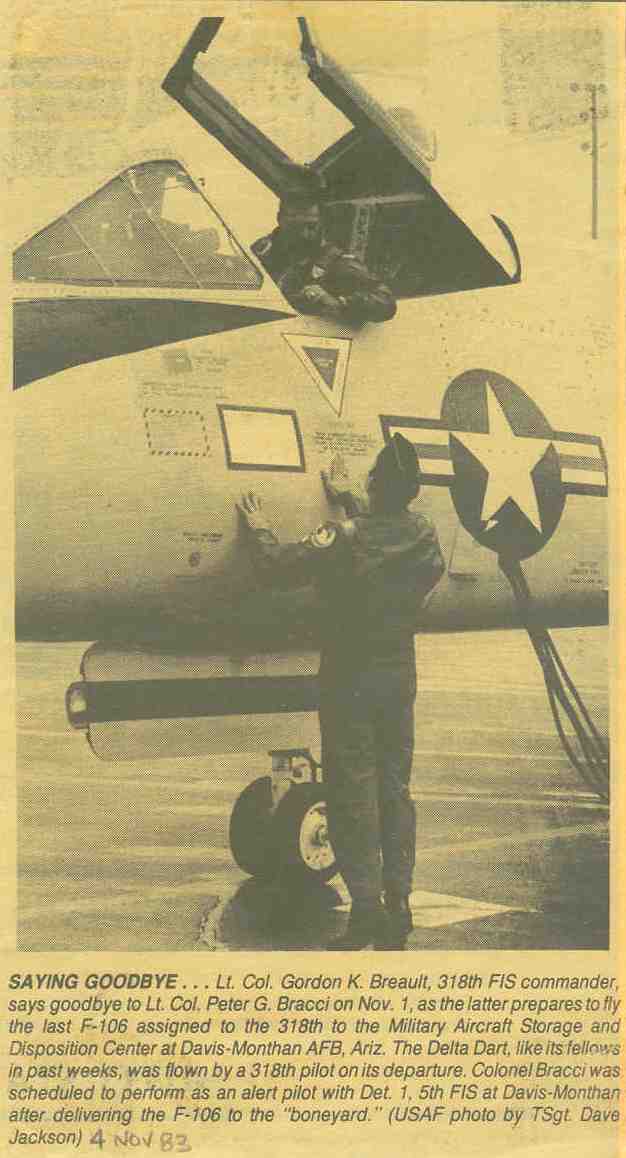 (Northwest Airlifter article, November 4, 1983)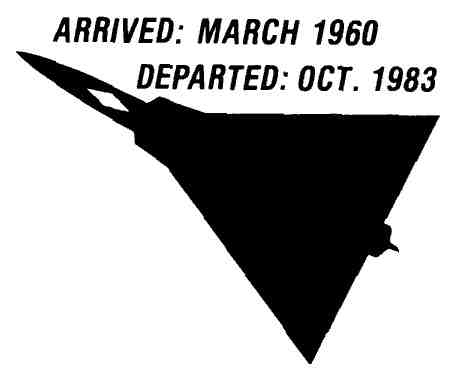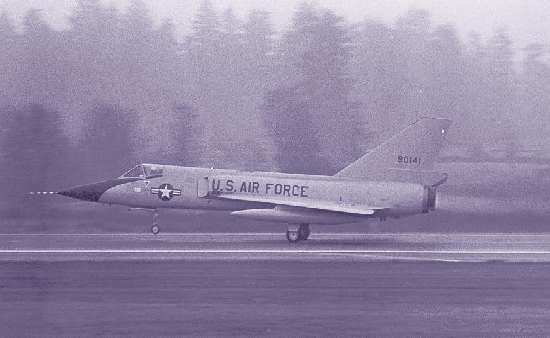 On November 1, 1983 McChord's 23 year association with the F-106 would come to a close for McChord with the flight of –0141 to the Davis-Monthan "Boneyard" for storage. After many years of baking in the Arizona sun, -0141 became the 134th F-106 to be converted into a Full scaled target drone on June 21, 1991.The newly re-numbered "AD134" career as a drone would last less than a year, 59-0141 would meet it's ultimate fate with a direct hit by a Stinger Missile on November 6,1992.
UNIT HISTORY
S/N 59-0141
Oct 1960 - 332nd F-106 produced by Convair at San Diego CA
03 Feb 61 - To 456th FIS Castle AFB CA

24 Apr 63 - To 498th FIS, 325th FW, McChord AFB WA

01 Apr 66 - To 318th FIS, 325th FW, McChord AFB WA

01 Jul 68 - To 318th FIS McChord AFB WA

15 Jul 68 - To 48th FIS Outside ZI

(Korea)

23 Dec 68 - To 318th FIS McChord AFB WA

02 Nov 83 - To Davis Monthan AFB AZ for storage (20th F-106 stored)
26 Feb 91 - To AEL Inc., East Alton IL for drone conversion

07 Jun 91 -To Holloman AFB NM as QF-106 drone S/N AD134

06 Nov 92 - Shot down on 6th NULLO by a Stinger Missile

"DART OUT"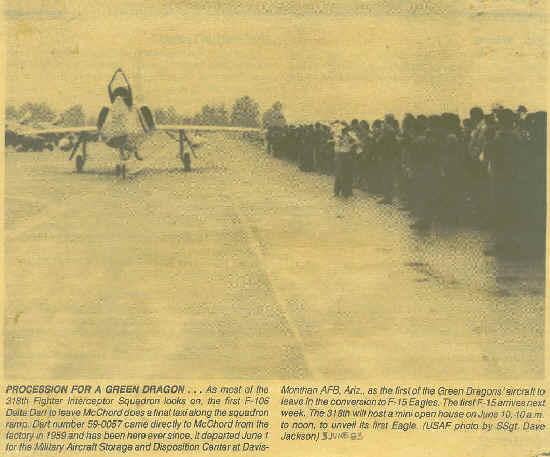 Photo by SSGT Dave Jackson Northwest Airlifter-McChord AFB
F-106A S/N 59-0057 piloted by Capt Tim Murphy left McChord on its last flight into retirement on June 1, 1983. Over the next 5 months F-106's from 318th FIS would leave McChord making way for their replacements, the F-15 Eagle. Below is a reprint of a Tacoma News Tribune article covering the event.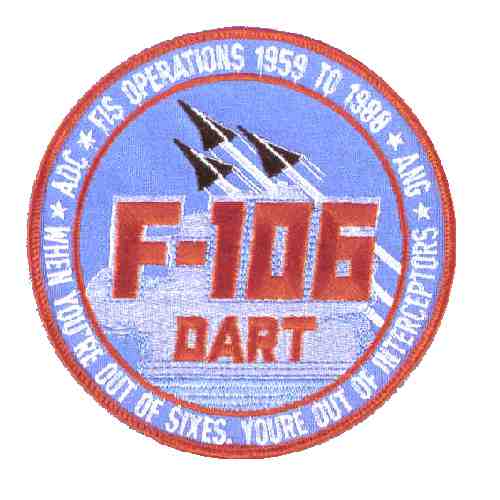 Old Air Force bird leaves here for the Boneyard
24-year-old F-106 outlived usefulness
By Marlowe Churchill – Tacoma News Tribune - June 2, 1983
McCHORD AIR FORCE BASE – Old No. (59-0057) which has protected the Northwest's coastline almost since the plane was built in 1959, roared off on its last mission Wednesday, destined for the Air Force's Boneyard for surplus aircraft. But the F-106, to be replaced next week by the newer and more reliable F-15 Eagle, nearly missed its farewell party. While Capt Tim Murphy sat in the cockpit as fellow pilots, mechanics and ground crew of the 318th Fighter-Interceptor Squadron lined up to pay their respects, the old bird just wouldn't start. That's why the Air Force is replacing the Delta Dart, mumbled squadron commander Lt. Col. Pat Gamble as he and his pilots waited for the powerful engine to crank up. The squadron's first Delta dart to go to the Boneyard at Davis-Monthan Air Force Base, AZ suddenly came to life, accompanied by cheers of the 605-member squadron. No. (59-0057) slowly taxied toward the runway past the squadron as Capt Scotty Wilson patted the passing wing section and waved to pilot Murphy. The runway crewmen checked for any pre-takeoff problems. And then the old workhorse, its engine screaming, rolled a few yards down the runway before it's afterburner ignited with a boom and No. (90057) left McChord for the last time. Squadron members quickly lined the runway fence and awaited for Murphy to bring the jet back for a farewell low-level pass and vertical climb into the mist which was shrouding the runway.

The F-106 is not the only change for the 318th Squadron, which patrols the coast looking for enemy movements as a part of the 25th NORAD Region. Gamble will be leaving next week to attend the Air Force War College at Maxwell Air Force Base AL, and will be replaced by Lt. Col Gordon Breault, former Chief of Maintenance at Langley Air Force Base, VA who has helped another squadron in it's transition from the F-106 to the F-15 (48th FIS).

In addition, two-thirds of the existing squadron will be transferred to other units, either F-106 squadrons or other fighter units, to be replaced by qualified F-15 pilots, mechanics and ground crews. Murphy, who flew the first F-106 to Arizona, is among the departing pilots. Nine of the 30-odd fighter pilots are to be trained to fly the F-15 in an intensive three-month course and return to McChord. Wilson, who will remain with the 318th and leave for training soon, said the transition period of the past few months has been rather traumatic in preparation for phasing out 21 F-106's, most of which are older than the pilots themselves, and getting ready for a steady arrival of F-15 replacements.

But the heralded 318th Squadron which pounded German aircraft and targets from bases in Russia during World War II has flown nine different airplanes since its formation more than 40 years ago, beginning with the P-40. "Those of us staying are really excited about the F-15," said Wilson. "The F-15 is the finest air-to-air airplane in the World today," he said, noting the Israelis' success s with the fighter over Syrian MiGs several years ago.

Added Gamble: "The F-106 is the most graceful and beautiful of jets, and we'll all look back with nostalgia. But it's time, it's outlived its usefulness. The maintenance has been a big problem. It'll be great to have an airplane that is reliable and proven". This 318th is the second F-106 Tactical Air Command squadron to switch to the F-15, which has been used by the Air Force and its close allies since 1974 on front line air-to-air defenses overseas.

Half of the departing F-106s will be sent to the Boneyard, probably used as drone practice targets in the future. The other half will be distributed to other F-106 Squadrons scattered throughout the country. No (59-0057) will be remembered as an aircraft which came off the assembly line and immediately was pressed into service at McChord (on 01 March 1960), where it has remained on duty except for a tour in Osan, South Korea. But it will be remembered as a big headache to maintenance crews who've had to continually patch the bird up over the years. "She sure looked pretty taking off, though, didn't she?" one officer concluded.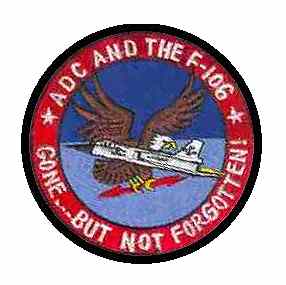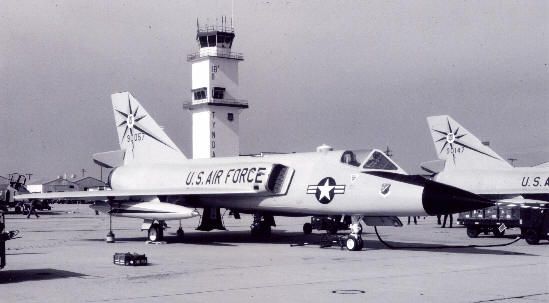 In October 1982, 59-0057 was one of the five aircraft flown to the 318th FIS's last William Tell competition in the F-106.
UNIT HISTORY
S/N 59-0057
Mar 1960 - 228th F-106 produced by Convair at San Diego CA


05 May 60 - To 318th FIS, 325th FW, McChord AFB WA


01 Jul 68 - To 318th FIS McChord AFB WA


15 Jul 68 - To 48th FIS Outside ZI (Korea)


23 Dec 68 - To 318th FIS McChord AFB WA


02 Jun 83 - To Davis Monthan AFB AZ for storage (11th F-106 stored)


06 Dec 91 - To AEL Inc., East Alton IL for drone conversion


20 Mar 92 - To Tyndall AFB FL as QF-106 drone S/N AD176


09 Apr 96 - Shot down on 6th NULLO by an AIM-120
318TH FIS F-106A/B TAIL NUMBERS
Below is a final roster of all F-106 assigned to the 318th FIS during the conversion to F-15 in 1983.

Eight of the remaining F-106's served their entire careers at McChord.
F-106A
56-0454
56-0457
56-0459
56-0463
56-0466
57-0234
57-0243
58-0764
58-0767
59-0054
59-0055
59-0057
59-0058
59-0059
59-0108
59-0110
59-0141
59-0143
59-0147
F-106B
59-0152
59-0158
Website provided and maintained by:
The McChord Air Museum Foundation
P.O. Box 4205
McChord AFB, WA. 98438-0205
253-982-2485
e-mail - mamfound@mcchordairmuseum.org