_

OUR HISTORY

_
JOint base lewis-M

c

Chord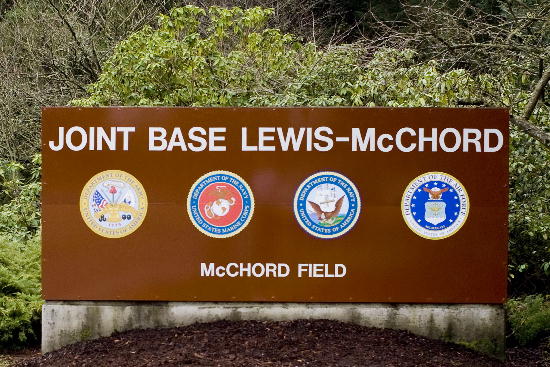 On Feb. 1, 2010, Fort Lewis and McChord Air Force Base became Joint Base Lewis-McChord (JBLM) -- one of 12 joint bases worldwide. On that day, JBLM reached its initial operational capability, meaning the installation support functions at Fort Lewis and McChord Air Force Base began a phased consolidation to Army management under the Joint Base Garrison. The process will be complete on Oct. 1, 2010, when JBLM reaches its full operational capability and all installation support functions have transferred.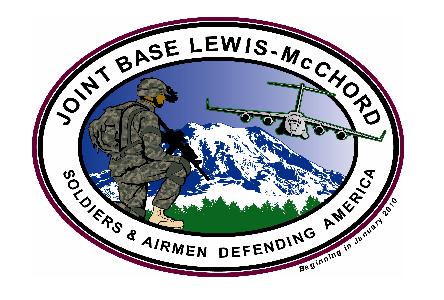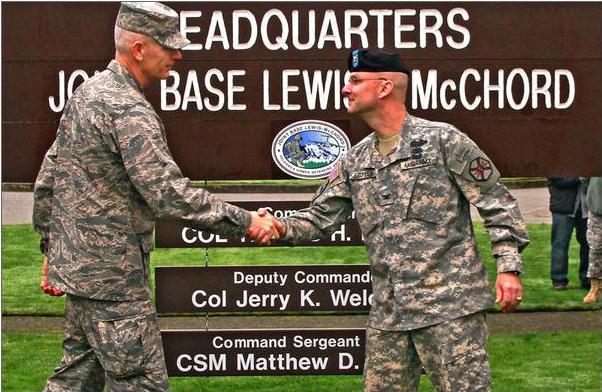 DEAN J. KOEPFLER - TACOMA NEWS TRIBUNE
Joint Base Lewis-McChord Deputy Commander Air Force Col. Jerry K. Weldon II , left, and Commander Army Col. Thomas H. Brittain shake hands after the unveiling of the JBLM sign during a ceremony at the Joint Base Garrison building Monday morning, Feb.1, 2010. Fort Lewis and McChord AFB officially combined Monday as a way to streamline operations and save taxpayer money.
Ceremony marks start of Joint Base
Lewis-McChord
2/3/2010 - Joint Base Lewis-McChord reached Initial Operational Capability Monday in a ceremony in front of JBLM Headquarters, Bldg. 1010, at the intersection of Liggett and Kaufman Avenues on JBLM Lewis Main.

Army Col. Thomas H. Brittain, JBLM commander, cased the colors of Fort Lewis' U.S. Army Garrison and with Air Force Col. Kenny Weldon, JBLM deputy commander, unfurled those of the Joint Base Garrison in the ceremony. The new joint-base includes JBLM McChord Field (formerly McChord AFB), JBLM Lewis North (formerly North Fort), and JBLM Lewis Main (formerly Main Post).

After the ceremony, Colonel Brittain conducted a briefing at Carey Theater on JBLM Lewis Main and with Colonel Weldon at the McChord Theater on McChord Field, to discuss the formation of the joint base with the internal workforce - civilians and service members alike.

"We provide world-class support to mission commanders and the joint base community," Colonel Brittain said. "It's what we have done separately, now we're going to do it together."

Col. Kenny Weldon, JBLM deputy commander, hosted the briefing on McChord.

"Services that will be provided through the joint base will be equal to or greater than they are today," said Colonel Weldon.

Monday marked the start of a transition period lasting eight months through Oct. 1, when Full Operational Capability is reached with all milestones and objectives completed in the development of the joint base. The eight months of IOC are divided into three phases during which increasingly complex units will integrate and take their places in the joint base structure.

"When we look at what Joint Base Lewis-McChord is, it's very important for us to recognize that footprint is not changing," Colonel Weldon said. "There is still a total amount of personnel and dollars to support these very important missions."

Signs were posted Monday, letterheads will change and calendars will consolidate. Some smaller, less complex organizations begin merging immediately during Phase 1.

The installation unveiled a new Web site Monday. The address is www.lewis-mcchord.army.mil. The 62nd Airlift Wing Web site remains at www.mcchord.af.mil/.

It was designed to be an understated beginning for the joint base.

"We sincerely believe that this is a natural step, the right thing to do," said Colonel Brittain. "We've fought together with the Air Force in any number of locations and now we're going to live and train together. In the process, we're going to become more efficient and effective. We absolutely think that the sum is going to be greater than the parts."

Out of 20 installations to undergo joint basing, this is the first time the Army has had the lead in the effort. Twelve installations across the United States are now a joint base.
Related Stories:
Lewis-McChord: A giant military marriage - By Kris Sherman Tacoma News Tribune
Fort Lewis, McChord merged into joint base - By Kris Sherman Tacoma News Tribune
JOint base lewis-M

c

Chord INFORMATION

Fort Lewis and McChord Air Force Base, located on Washington's south Puget Sound in the beautiful Pacific Northwest, had almost a century of military service before merging and becoming Joint Base Lewis-McChord (JBLM) in 2010.
Camp Lewis was established in 1917 and became Fort Lewis in 1927. McChord Air Force Base started as McChord Army Air Field in 1938 and became McChord Air Force base when the Air Force became a separate military service in 1947.

The U.S. Army's I Corps is the primary unit on JBLM Main and the U.S. Air Force 62nd Airlift Wing is the primary unit on JBLM-McChord Field. They join more than 30 different units from the Army, Air Force, Navy, Marine Corps, Reserve and National Guard, and Department of Defense agencies on JBLM.

In 2005, the Base Realignment and Closure Commission designated Fort Lewis and McChord Air Force Base as a joint base, one of 12 joint bases in the Department of Defense.

Joint Base Lewis-McChord became operational on January 31, 2010. When the transition period is completed on September 30, Fort Lewis and McChord AFB became one base with a common boundary, an Army joint base commander, an Air Force deputy commander, and base services managed and provided by the Army.

Joint Base Lewis-McChord is the largest military installation on the west coast of the United States with more than 415,000 acres, including Yakima Training Center in central Washington State. JBLM will support an on-base population and in neighboring communities of more than 100,000 people including military personnel, families, civilian and contract employees, and retirees and their families.

Throughout the implementation process and after the joint base began operation, JBLM's leaderships focus was supporting the warfighters and preserving or enhancing the bases ability to support national defense missions. Army and Air Force units will continue to be assigned and commanded by their military services, performing separate missions, and be supported by the joint base.

Creating the joint base is a complex process and required the consolidation of all support services for base units, their families and the retired community.
McCHORD AFB / FT. LEWIS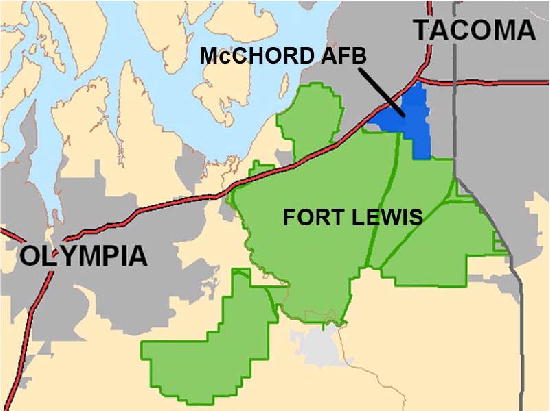 JOINT BASE LEWIS - McCHORD TIMELINE

<![if !vml]>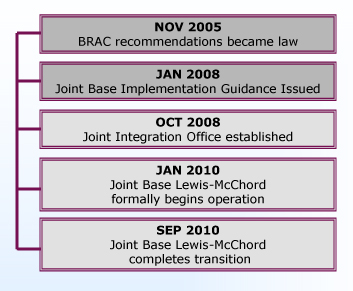 <![endif]>
JOINT BASE LEWIS - McCHORD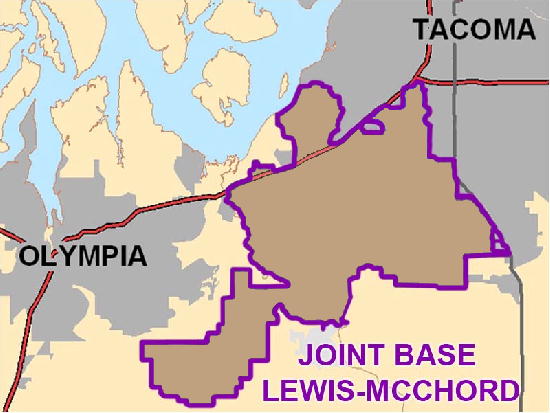 JOINT BASE LEWIS-McCHORD
(JBLM)
X
FORT LEWIS - MAIN POST: JBLM - MAIN
NORTH FORT LEWIS: JBLM - NORTH
McCHORD AFB: JBLM - McCHORD FIELD
Joint Base Lewis-McChord - by the numbers
X
90,836:

Acres at Joint Base Lewis-McChord in Pierce and Thurston counties

320,000-plus:

Acres at Joint Base Lewis-McChord Yakima Training Center

$508 million:

Annual operating budget for joint base support services
30,294:

Active duty Army personnel

2,805:

Army reservists

3,637:

Air Force active duty personnel

2,342:

Air Force reservists and National Guard at McChord Field

17,000:

Army troops deployed to Iraq and Afghanistan

43:

Number of C-17 Globemaster III aircraft assigned to McChord

10,968:

Army civilian employees & contractors at JBLM & Yakima Training Ctr.

4,316:

Air Force civilians and contractors

49,500:

Family members
29,247: Military retirees in area
Joint Basing Information
A joint base is the consolidation of two of more installations of different services into one base. These installations share a common boundary or are close to each other.
What is joint basing? Why are you doing it?
Within the Department of Defense, installations use military, civilians, and contractors to perform common installation support functions. All installations perform these functions using similar processes. Joint basing is an opportunity to achieve efficiencies in operating the installations and other savings from the consolidation of future service contracts.
Joint bases are also seen as installations to support war-fighting missions with the primary objective of preserving or enhancing the ability to support combat operations. They provide an opportunity to more efficiently and effectively support military units and missions, increase operational readiness and facilitate new ways of doing business.

Will the joint base save money from combining two bases?
Department of Defense guidance for joint bases states that savings will not be directed, but must be derived from manpower and functional analysis studies, and cooperative joint determinations between the affected installations.
What other bases are becoming joint bases?
Bases get new names in realignment
B
y Lisa Daniel - American Forces Press Service
3/25/2010 - WASHINGTON (AFNS) -- Some military installations are consolidating and getting new names as joint basing becomes a reality.

The 2005 Base Realignment and Closure Commission's directive to consolidate 26 stateside military installations into 12 joint bases has brought names such as Lewis-McChord, Langley-Eustis, and even the trilateral McGuire-Dix-Lakehurst into the lexicon of military installations.

Settling on new names was but a fraction of considerations undertaken in the four-year joint-basing process, which produced 12 agreements that range from 600 to 1,000 pages and cover everything from billeting to signage to services, said Col. Michael Addison, the Defense Department's deputy director of joint basing. While each joint base has its own unique challenges and experiences, Colonel Addison said, the process created much-needed uniformity in directing 49 like functions for each base.

"The Department of Defense now has common output level standards," he said. "Not having those standards was largely why we had difficulty doing this in the past. " Without common standards, Colonel Addison said, some services would, for example, measure unaccompanied housing by the number of beds, while others would measure space. "One of the benefits of joint basing is in learning how to talk to each other," he said. "We all had different languages. If you say 'emergency response' to a Soldier, Sailor, Airman or Marine, you may get four different ideas of what that means."

Joint basing isn't new, Colonel Addison pointed out. The military has used it for years in Iraq, Afghanistan and Bosnia. Still, he said, the concept met with some resistance stateside. "We know how to fight jointly," Colonel Addison said. "We've gotten really good at that in the past 10 or 20 years. What we aren't as good at yet is living together back in the (continental United States)."

As commander of Joint Base Lewis-McChord, Wash., Army Col. Tommy Brittain is motivated by his experiences with successful joint basing overseas as he works to meet the BRAC deadline to become fully operational by October. The start of joint basing, he said, can be traced back to the 1986 Goldwater-Nichols Department of Defense Reorganization Act. "We've been training and fighting together ever since," he said. "So, it was a natural progression to come to this conclusion at these certain locations to take care of mission commanders, warfighters and their families.

"I'm very proud to be a member of this team and leading this team in this direction," he added. "Honestly, I believe this is going to be historical." Colonel Brittain called the transition "a very complex process" that succeeds through teamwork at every level, outreach to stakeholders and "100 percent transparency in what we're doing." Like a city manager overseeing an annexation, Colonel Brittain had to study how the support functions of Fort Lewis and McChord Air Force Base would merge, where they would collocate, how jobs would change, and much more. "What was managed as two separate cities now is managed as one city," he said. "We have maintained our appropriate storefronts at the right location for where all those customers live, work and train."

Colonel Brittain said his job was made easier by the appointment of Air Force Col. Kenny Weldon II as the deputy base commander at Lewis-McChord. Weldon served in the Pentagon's installations and environment office and was well-versed in joint basing before going to Lewis-McChord. "There is great teamwork and leadership offered by Kenny Weldon and Col. Kevin Kilb, (the 62nd Airlift Wing commander), and so I have tried to continue to move forward with the teamwork approach to solve any problems that arise," Colonel Brittain said.

While the nature of the base merger forces compromises, Colonel Weldon said, teamwork grew out of the realization that joint standards for services and dual oversight of services would create a better installation. "There is a clear recognition in today's environment that you've got to have strong support to take care of warfighters and their families," he said. "It's a goal at every installation, but this is a concerted effort to try to put a definition to what that means."

The BRAC commission created the joint bases to bring efficiencies, common practices and cost savings to bases that were duplicating efforts, even while most shared a fence line, Colonel Addison said. One of the biggest challenges has been to assuage fears that joint basing strips services of their culture and heritage, he said. "That's the hardest thing for our base commanders to do is to assure people that nothing will be lost, then build a joint culture that preserves the cultures and what is special about each," Colonel Addison said.

Colonel Brittain said he has tried to do just that as he reaches out to Soldiers and Airmen. "We're getting out the message that this does not change our service culture, this does not change our service history, and this does not change our service mission," he said.

Such outreach, he said, is part of the process in moving the installation toward being fully operational as a joint base by October.

"We're going 24 hours a day to make sure things happen," Brittain said. "There is a great team beneath us that wear both a blue uniform and a green uniform, and they're moving the ball toward the goal."

Seven bases received new names in January:

-- Fort Lewis and McChord Air Force Base became Joint Base Lewis-McChord, led by the Army;

-- The Navy's Anacostia Annex and Bolling Air Force Base here became Joint Base Anacostia-Bolling, led by the Navy;

-- Naval Station Pearl Harbor and Hickam Air Force Base, Hawaii, became Joint Base Pearl Harbor-Hickam, led by the Navy;

-- Charleston Air Force Base and Naval Weapons Station Charleston, S.C., became Joint Base Charleston, led by the Air Force;

-- Elmendorf Air Force Base and Fort Richardson, Alaska, became Joint Base Elmendorf-Richardson, led by the Air Force;

-- Lackland and Randolph Air Force bases and Fort Sam Houston, Texas, became Joint Base San Antonio, led by the Air Force; and

-- Langley Air Force Base and Fort Eustis in Virginia became Joint Base Langley-Eustis, led by the Air Force.

Five others became joint bases in October when:

-- Naval Amphibious Base Little Creek and Fort Story in Virginia became Joint Expeditionary Base Little Creek-Fort Story, led by the Navy;

-- Fort Myer and the Marine Corps' Henderson Hall in Virginia became Joint Base Myer-Henderson Hall, led by the Army;

-- Andrews Air Force Base and Naval Air Facility Washington, in Maryland, became Joint Base Andrews, led by the Air Force;

-- McGuire Air Force Base, Fort Dix and Naval Air Engineering Station Lakehurst, all in New Jersey, became Joint Base McGuire-Dix-Lakehurst, led by the Air Force; and

-- Navy Base Guam and Andersen Air Force Base in Guam became Joint Region Marianas, led by the Navy.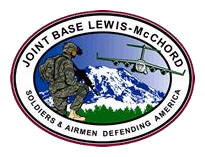 ESTABLISHING JOINT BASE LEWIS - McCHORD
How was Joint Base Lewis-McChord established?
The Base Realignment and Closure (BRAC) Commission in 2005 recommended the transfer of installation support functions of McChord AFB to Fort Lewis and establish Joint Base Lewis-McChord. It was one of twelve joint bases established from 26 military installations. The recommendation became law in November, 2005.

When will Joint Base Lewis-McChord start?
Fort Lewis and McChord AFB leaders and planners had been preparing for joint basing since 2006. Joint Base Lewis-McChord began initial operational capability (IOC) on 31 January 2010 and achieved full operational capability (FOC) on 30 September 2010 when the transfer of all property, operating funds, and installation support civilian employees from the Air Force is complete.

Who will command the joint base?
The BRAC designated a military service to operate each joint base and provide installation support services. At Joint Base Lewis-McChord, the Army has the responsibility of managing and providing services to Air Force units. As the military service component responsible for operating the base, the Army will assign a joint base commander and the Air Force will assign a deputy joint base commander.
The base commander and deputy base commander will have assigned military and civilian personnel for supporting the base, but will not command any of the Army and Air Force units on the base. Those units will remain under the command and control of their military service.

How will the joint base affect Air Force missions?
Joint basing is expected to preserve or enhance the bases ability to support military missions. On JBLM, Air Force units will to continue their combat airlift and mission readiness while receiving installation support from a blended structure that will provide new support opportunities.

Is the Army going to be in charge of Airmen?
Command of Airmen and Air Force units will be exercised by their appropriate unit commanders; however some Airmen may perform tasks to support the joint base.

Will Air Force units on the joint base report to joint base commander?
Air Force units, and all other units on the joint base, will continue to report to their respective service chains of command.

Will the Air Force control the part of the joint base where McChord is now?
The Air Force will control and operate the airfield at JBLM-McChord Field. On all other areas of the joint base, the joint base commander will be responsible for managing and providing installation support services.
<![if !supportLineBreakNewLine]>
<![endif]>
CONSOLIDATING SERVICES FOR
JOINT BASE LEWIS-McCHORD

What is the process for establishing Joint Base Lewis-McChord?
The senior representatives of Fort Lewis and McChord AFB directed and managed the implementation process with the Joint Base Partnership Council (JBPC). The planning staff of both installations supported the JBPC with the Joint Base Executive Committee. Joint teams from Fort Lewis and McChord AFB formed functional working groups to consolidate all of the activities and functions necessary to operate the JBLM.
Their work lead to a memorandum of agreement that described the functions to be performed on JBLM and the responsibilities of the Army and Air Force for those functions. After the memorandum was signed by the Vice Chiefs of Staff of the Army and Air Force, it was framework of how the JBLM will operate.

How will you resolve disputes that occur in the process?
Diffrences are resolved by first, discussions within the functional work groups planning the joint base implementation. If necessary, the differences are addressed by higher levels with the Army and Air Force.

Will jobs be cut when it becomes a joint base?
Based on the projected population growth of Fort Lewis and the establishment of JBLM, the installation support infrastructure is expected to increase. An anticipated larger and broader civilian and military work force required to support the joint base may open new opportunities for personnel growth and development.

How will you determine who will operate installation facilities or what policies will be followed?
Those decisions will be made on a cooperative basis between Lewis and McChord, following an intense analysis of the best practices for that facility. The goal is to consolidate the installation management functions in a way that provides the best possible service to the men and women of Lewis and McChord.

How will the joint base receive its funding?
Because the Army has been designated as the supporting service, Joint Base Lewis-McChord will receive funding for installation support services from the Army's Installation Management Command. Funds for operating the former McChord AFB will be transferred from the Air Force to the Army for JBLM.

What is the expected economic impact of JBLM?
The economic impact cannot be determined until a detailed analysis is conducted after the implementation is completed. However, since the transition two installations to one joint base will not change the number of assigned personnel or military missions, the economic impact for the neighboring communities is expected to remain the same or increase with the planned growth of Army units at Fort Lewis/Joint Base Lewis-McChord.

What services will be combined for the joint base?
JBLM planners are still conducting a detailed analysis of support functions for possible consolidation.

How will contracts with local businesses be affected by the joint base?
During the transition period service contracts may be consolidated, but affected contracts will not be known until a comprehensive analysis of required services is completed by joint functional working groups. The process is expected to be completed with the memorandum of agreement between the installations.

How will area communities be affected by joint basing?
The joining of Fort Lewis and McChord Air Force Base is intended to be transparent to our Pacific Northwest neighbors. No real growth in the military population or change of mission for the military services is expected as a result of joint basing. Some points of contact and processes may change as a result of changes in the organization, but it will be the task to ensure that those changes are as transparent as possible to our neighbors.

What areas or missions will become joint?
Installation support services that will be managed and provided by the Army on Joint Base Lewis-McChord include command support, community services, environmental services, facilities, fire protection and emergency services, housing services, human resource management, information technology services management, logistics support, law enforcement and physical security and operational mission services.

What will the biggest challenge be for Joint Basing?
It will be a challenge to attain similar levels of service in installation support. Each military service has its own definitions of levels of service, and these must come together into one. Both Army and Air Force leadership worked together to find the best way to take dissimilar organizations, examine these differences and determine an organizational structure that will most effectively accomplish our missions.
<![if !supportLineBreakNewLine]>
<![endif]>
WORKING AND LIVING ON
JOINT BASE LEWIS-MCCHORD

Will a road between Fort Lewis and McChord AFB be open now?
JBLM leadership is still in the process of identifying issues required for implementing JBLM. The traffic flow between the installations is included in those issues.

How will housing and the schools be affected?
All homes on the joint base will be managed under a privatized housing contract. JBLM will continue to provide elementary schools for communities on the joint base. Little change is expected in the availability and quality of homes and schools that the total population increase at Fort Lewis and McChord has not already affected.

Will the PX and BX, and Commissaries be combined?
The post exchange at Fort Lewis and base exchange at McChord AFB are operated by the Army and Air Force Exchange System. The commissaries on both installations are operated by the Defense Commissary Agency. Since their operation is not part of the support services being combined on the joint base, any change to their operation will be determined by their respective organizations. There aren't any plans at this time to change their operations.

Will joint basing affect the proposed cross-base highway?
The proposed cross-base highway is a Washington state project and is not affected by the joint base. A secure underpass will link Fort Lewis and McChord AFB when the cross base highway is complete.
Website provided and maintained by:
The McChord Air Museum Foundation
P.O. Box 4205
McChord AFB, WA. 98438-0205
253-982-2485
e-mail - mamfound@mcchordairmuseum.org