_
MUSEUM COLLECTION
general DYNAMICS F-16a FIGHTING FALCON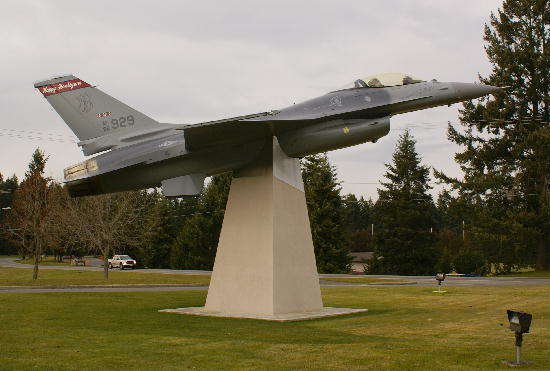 _DISPLAYED AT WADS HQ
HISTORY
_
The General Dynamics (now Lockheed-Martin) F-16 incorporated many advanced technologies during it's development in the early 70's that made the fighter one of the most maneuverable fighters ever built. Some of the advances include: a blended wing-body aerodynamics with forebody strakes, automatically variable wing leading-edge flaps, fly-by-wire controls with side stick controller, high g

tolerance/high visibility cockpit with a 30 degree reclined seat and single –piece bubble canopy.

The F-16 was developed to replace the McDonnell F-4 Phantom II

multi-role fighter in the active forces and to modernize the reserve forces. A F-16A, a single-seat model entered operational service initially

with the Tactical Air Command's 388th TFW at Hill AFB, UT in January 1979.

The F-16B, a two-seat model, has tandem cockpits that are about the same size as the one in the A model. Its bubble canopy extends to cover the second cockpit. To make room for the second cockpit, the forward fuselage fuel tank and avionics growth space were reduced. During training, the forward cockpit is used by a student pilot with an instructor pilot in the rear cockpit.

All F-16s delivered since November 1981 have built-in structural and wiring provisions and systems architecture that permit expansion of the multirole flexibility to perform precision strike, night attack and beyond-visual-range interception and Wild Weasel missions. This improvement program led to the F-16C and F-16D aircraft, which are the single- and two-place counterparts to the F-16A/B, and incorporate the latest cockpit control and display technology.

I

n October 1986, the USAF announced that the F-16 had been chosen

over the Northrop

F-20 Tigershark to replace F-106 & F-4's in use with 11 Air National Guard Fighter–Interceptor Squadrons. Of the original F-16 A/B's 272 were modified to F-16 ADF (Air Defense Fighter) standards, modifications include: radar upgrades (improved capability against cruise missiles, improved ECCM, AIM-7 & AIM-120 capability additions), HF radio, IFF interrogator, flight data recorder, GPS provisions, and a 250 watt, 150,000 candle-power Identification light.

The

ADF-16 entered service with Oregon ANG's 114 TFTS on 1 February 1989 when the unit received it's first "B" model (82-041) as a replacement for it's F-4C Phantom II fighters. McChord's 318th FIS was scheduled to convert from the McDonnell-Douglas (now Boeing) F-15A/B Eagle into the ADF-16A/B during 1989 but the squadron was deactivated before any F-16's arrived. The first operational unit to receive the ADF model was WADS's 194th FIS/ 144th FIG, CA ANG in April of 1989. In mid 1989, other squadrons, some of which revived their basic F-16A/B as long as three years earlier, began sending their F-16's to Ogden Air Logistics Center, UT for upgrade to the ADF standard. All ADF modifications were complete by October 1991.

On the morning of September 11, 2001 F-16's from North Dakota ANG's Alert detachment at Langley AFB, VA were the first fighters in the air to defend the Nations Capital during the Terrorist attacks against America. After their arrival The "Happy Hooligans" established history's first Combat Air Patrol (CAP) over Washington D.C. This CAP would would be the start of a operation that would later be named Noble Eagle. Fighters flying in support of Operation Noble Eagle flew over 19,000 sorties over the U.S. and Canada between 2001 and 2002. By contrast, only 147 sorties were flown as part of the NORAD air defense mission during all of 2000.

Remaining ADF F-16A/Bs are to be retired and replaced by

F-16C/D by 2006.

North Dakota's 178FS, assigned to the Western Air Defense Sector is the last squadron in the Air Force to fly the ADF version and A/B model of the F-16. The "Happy Hooligans" converted out of the F-16 in 2007, the unit will be one of the Air National Guards first UCAV Squadrons. All other squadrons have converted into the F-16C/D or other aircraft and/ or missions.

On December 26, 2006 the Western Air Defense Sector received one of the three F-16's to fly over Washington D.C. and the Pentagon after a five year campaign by McChord Air Museum Foundation Member Ernest White to acquire the aircraft for display at the Base. The aircraft, S/N 82-0929, was flown to McChord with Brad Derrig at the controls. Col. Derrig, a pilot with the North Dakota National Guard, was scrambled out of units detachment at Langley, VA in F-16 -0929 and flew the historic CAP mission during September 11, 2001.

The implementation of the MSIP Stage II changes in the F-16 production line, resulted in the second generation of F-16 aircraft. Starting with Block 25, the F-16C and F-16D (as the one-seat and two-seat variant designations).

The F-16C/D model featured several upgrades over the A/B models among them being modifications to the F-16's Radar and Fire control Systems, new weapons capabilities, new radios and navigation systems, and a maximum take-off weight increase to 43,300lbs. These improvement the Falcon's capability for BVR-engagements and nighttime/precision ground attack missions. The F-16As deficiencies in these mission profiles had been particularly obvious in operations over Europe, where the weather is generally bad much of the time.

Externally, the F-16C is almost identical to the F-16A. The only significant external difference is the introduction on the F-16C of an enlarged triangular base or "island" on the rear fuselage leading up to the vertical fin, with a small blade antenna protruding upward from it. This extra space was originally intended for the Airborne Self-Protection Jammer (ASPJ) that is used on Navy aircraft which was never installed .

The F-16 has been very successful international fighter, with over 2,200 sold to the US Air Force and over 1,800 to 20 other nations.
Click here for stories concerning the acquisitions and restoration of this aircraft
TOP OF PAGE
SPECIFICATIONS
_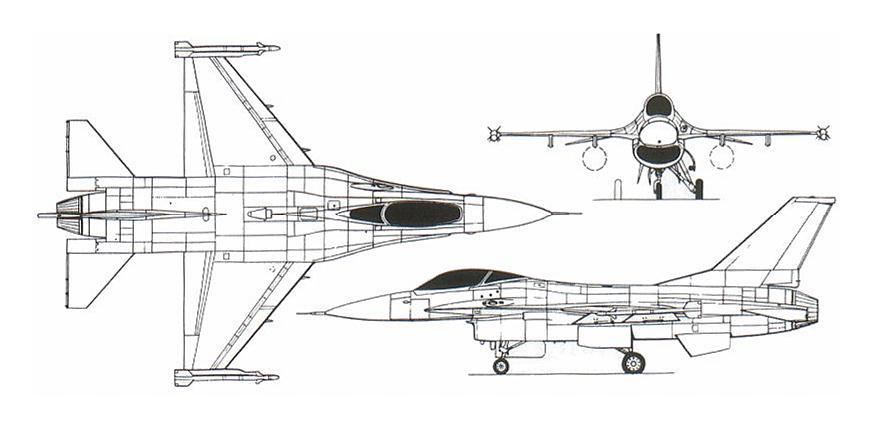 TYPE:

(F-16A/B ADF)

Air defense Fighter/General Purpose multi-role Fighter

POWER:

One Pratt & Whitney F100-PW –200 turbofan

SPEED:

1,500 mph (Mach 2)

RANGE:

3,450 miles (with 3 external tanks)

SERVICE CEILING: Above 50,000 feet

WEIGHT: Empty, 15,586 lbs; Maximum Takeoff Weight, 37,500 lbs.

DIMENSIONS:

Span - 31 feet, Length - 47 ft 8 in, Height - 16 ft 5 in, Wingspan, 31 ft.

ARMAMENT: Air Defense - One M-61A1 20mm multibarrel cannon with 500 rounds; external stations can carry up to six air-to-air missiles (IR or Radar); General Purpose – 3 underwing and one fuselage stations capable of caring 15,200 lbs of stores.

COST: $

14.6 million

McCHORD BASED UNITS: None - 25th AD, NWADS, or WADS Units (not based at McChord)-

,

111th FS/147th FW, Ellington ANGB, TX-ANG (1995- ),

178th FS/119th F

W

, Fargo ND-ANG, (

1

989

-2007

)

,

186th FS/120thFW, Great Falls, IAP, MT-ANG (1986- ),

1

94th FS/144th F

W

Fresno IAP, CA-ANG (1989

-

)

/

Replacement Training Unit - 114th TFTS Kingsley FLD OR-A

FETC

(1989-1998)
TOP OF PAGE
ADDITIONAL PHOTOS
_
178th FS F-16s fly a combat air patrol mission in support of
Operation Noble Eagle.
Two ND ANG F-16ADF's fly over Washington D.C. during
Operation Noble Eagle.
A pilot F-16 from the 178th FS / 119FW watches his wingman
break formation during
Operation Noble Eagle.
A Houston, Texas-based 147th Fighter Wing F-16C returns from a
combat mission over Southern Iraq in late 2000.
ANG F-16C's from Texas, New Jersey and Vermont await clearance to
taxi during their Operation Southern Watch deployments.
A F-16B from the Air Education and Training Command's 114 FS,
173 FW Kingsley Field, OR the unit currently flies the F-15 Eagle.
The tail insignia found on F-16A's of the 186th FS in 1990.
A black "Griffin
" is displayed on all
California ANG (194th FS) F-16C's.
TO MUSEUM COLLECTION PAGE
Website provided and maintained by:
The McChord Air Museum Foundation
P.O. Box 4205
McChord AFB, WA. 98438-0205
253-982-2485
e-mail - mamfound@mcchordairmuseum.org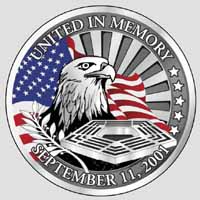 TOP OF PAGE