OUR HISTORY
_
DOUGLAS C-124C GLOBEMASTER S/N 52-0994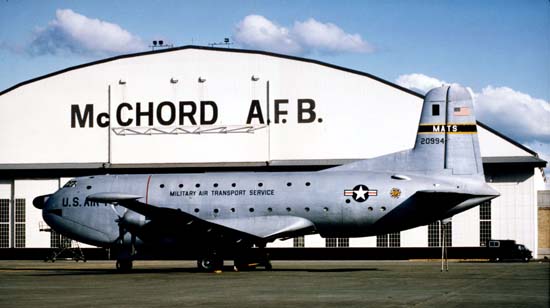 THE QUEST TO "BRING HOME" A DOUGLAS C-124 AS SEEN THROUGH THE EYES OF CHUCK BOWEN
In February of 2013 one of the McChord air Museums founding members, MSgt. Chuck Bowen (USAF Ret) put away his tools and retired for the last time at McChord leaving the Museum after more than 30 years of loyal service to the organization. Over his time with the Museum, Chuck was a part of many projects, but the one he will be most remembered for will be the C-124.
As a tribute to his Father, Gary Bowen authored this story covering Chuck's military career and details of the successful mission that gave McChord one of the last remaining C-124's
MASTERS OF THE AIR
By Gary Bowen - McChord Air Museum Foundation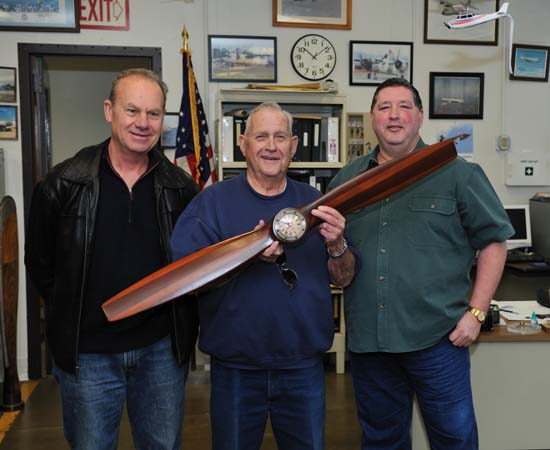 On his last day with the McChord Air Museum, MSgt. Chuck Bowen (USAF Ret) is presented a propeller clock by McChord Air Museum Foundation Vice President Randy Getz and McChord Air Museum Administrator / Curator Ray Jordan.
You can take the Master Sergeant out of the Air Force, but you can't take the Air Force out of the Master Sergeant and, Master Sergeant Chuck Bowen was no exception.
Chuck enlisted in the Air Force during the Korean War. He was 17 years old, and had just lost his job because he had a broken collarbone. Chuck was getting hungry, so he decided to go see the Navy recruiter. Fortunately, for both Chuck, and the United States Air Force, the Navy recruiter was out to lunch. The Air Force recruiter wasn't. In those days, most USAF aircraft had propellers. Although he graciously worked on jets occasionally, his love was, 'real airplanes with round engines.' Chuck became the 'go-to' guy on round engines. His Air Force career took him all around the world, even all over Southeast Asia. Stuff he's not allowed to talk about. His Air Force career even took Chuck into the jet age. Still, as long as the USAF aircraft with round engines, Chuck was the man they called.
In 1974, Chuck retired from the Air Force. His retirement allowed him to enjoy life, even start a second career with the General Electric Company. Naturally, they put a tool in his hand, and Chuck did what he does best. Chuck even spent part of his retirement traveling with his family. When he traveled, he usually traveled to where there was an air show. In his retirement, Chuck even fulfilled a lifelong dream. He obtained a pilot license. He was a proficient pilot, but continued to be an excellent mechanic. Chuck even obtained his A & P license, and picked up his tools again.
Chuck continued to maintain close contacts on McChord Air Force Base. When news spread that a museum was going to be opened on Base, Chuck was first in line.
One of Chuck's first duties as a museum volunteer was Gift Shop Manager. Chuck assembled an inventory of affordable souvenirs. While operating the souvenir counter at the museum building, Chuck would also serve as one of the first docents and, on many weekends, Chuck would load up a trailer with McChord Museum souvenirs, and open up an off-site concession stand at any number of local air shows, 100% of the proceeds went into the museum treasury.
In the early days, the museum building was located on what is now Heritage Hill. Museum visitors had only to step outside, and would have a grandstand view of ramp traffic. It was not unusual for museum visitors to exchange waves with F-15 and T-33 pilots from the 318th FIS, or C-141 crewmembers from the 62d MAW.
When the new museum began assembling a collection of aircraft, Chuck again did what he does best; he picked up his tools, and began working on museum aircraft. It is likely that Chuck has had his tools on just about every airframe in the current museum inventory. He's even done some work on the pointy-nose jets that he still graciously tolerates.
The history of McChord Field would not be complete without mention of a long-time McChord staple, the mighty Douglas C-124 Globemaster. The McChord Museum inventory would not be complete until one could be acquired in its collection. That's exactly what Chuck and the other museum volunteers intended to do; obtain a C-124.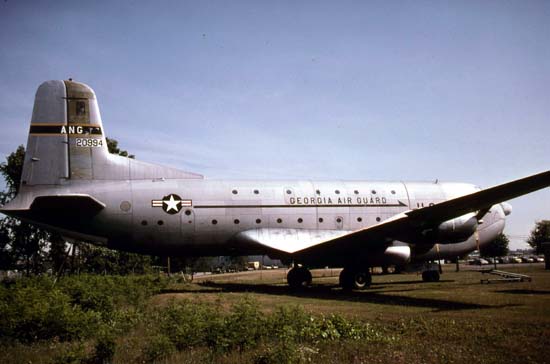 C-124C S/N 52-0994
at Detroit Institute of Aeronautics, Detroit Institute of Aeronautics, 1980.
When the USAF retired the Globemaster, not many of them were kept. Most were sent to, 'The Boneyard,' where they were promptly scrapped. After all, this was the jet age, the C-124 was a hold-out from an earlier era. With fewer than a dozen C-124s remaining, obtaining one for the museum was not going to be easy. McChord Air Museum volunteers were mostly USAF veterans used to doing what isn't easy. If there was a C-124 airframe available anywhere, they were going to do what was necessary to get it back to McChord. It would be a disservice to not mention the sacrifice and expense the early museum volunteers endured to obtain the C-124. Although one was located at a trade school in the Midwest, getting it to McChord was not an easy task.
It took some serious horse-trading simply to obtain ownership of this potential museum flagship. After the lawyers were consulted, a more suitable aircraft in the Air Force Museum inventory was traded to the school, for their needs. The McChord Air Museum now had a C-124, USAF tail # 52-0994. This particular aircraft was never assigned to McChord, but it was the airplane they were looking for.
It took some work to make -0994 flight-worthy. It had sat in the same place for so long, that full-grown trees blocked it in. The engines had been run regularly until the aircraft fuel tanks were depleted. Then, they just sat and deteriorated to the point of being unusable.
Chuck and his fellow volunteers made many trips to where the C-124 sat. They spent their own funds for travel, and housing, and used their own tools to ready -0994 for travel. Old USAF contacts were re-established, and needed parts were obtained. The most difficult to find were four, usable Pratt & Whitney 4360 engines. Finding and obtaining the engines was the easy part. Chuck and his colleagues had to change all four engines out in the open. Every inch of -0994 had to be inspected, and if necessary, repaired. After all the work was done, every system on the airframe had to be tested prior to inspection by the FAA. Finally, FAA had granted permission for a VFR (Visual Flight Rules) ferry flight to McChord Air Force Base.
The flight took place in October 1986, needless to say, the C-124 didn't arrive at McChord unnoticed, it was escorted by a McChord C-141 and C-130. In true C-124 fashion, one of the engines had to be shut down because of an oil leak, and -0994 arrived at McChord with one engine smoking. It was rumored that every fire department in Pierce County received reports of a large airplane with one engine on fire. Nevertheless, -0994 arrived safely at McChord with substantial fanfare. The McChord Fire Department did roll out their crash trucks, but not because they feared, the C-124 was on fire. They rolled out their trucks to give the arriving C-124 the honor of a ceremonial master stream bath.
Ironically, despite all the work Chuck put into getting Old Shakey ready for its flight to McChord, Chuck was not aboard for the flight. He gave up his traditional post at the Flight Engineers panel to another "FE", he was on-hand for the arrival though.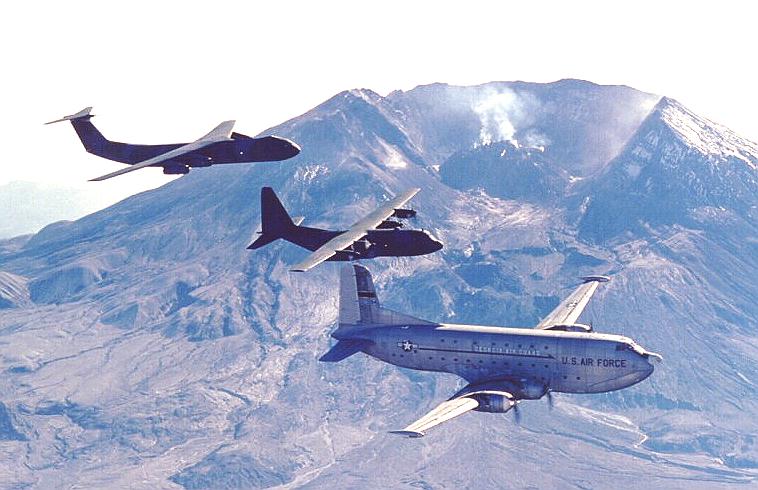 After months of hard work by Air Force, Air Force Reserve and Museum Volunteers, C-124C 52-0994 completed a nonstop flight from Selfridge ANGB to its final destination at McChord AFB on October 9, 1986. The delivery of -0994 to the McChord Air Museum, pictured here with 62d MAW C-141 & C-130 over Mt Saint Helens, was the last flight ever of a C-124 Globemaster II.
Now that -0994 was part of the McChord Air Museum inventory, the work was just beginning. Fortunately, McChord still had a large pool of veterans familiar with the C-124. They banded together at least one Saturday per month, for a C-124 work party. Soon, the work parties became more frequent. There was lots of work to be done on the C-124. The more work they did, the more things they discovered needed to be done. Most of the equipment at McChord was built to support the current mission aircraft, the C-141 StarLifter. Even getting a stand tall enough to paint a prop line on the aircraft was a challenge. A rappel rope worked in this case. A 'cherry picker' boom truck would need to be brought in if any work had to be done on the 48' vertical stabilizer.
In those days, climbing on the roof of the fuselage, or working on top of the wings without a safety line, were not unusual.
Usually, the workday would culminate at Maxie's, a local restaurant that served creamed chipped beef on toast. The S.O.S. was tasty if you're a USAF veteran, but the better part of the after-work meal was the sharing of C-124 experiences.
The C-124 was stationed on the ramp, in several different areas over the years. Ramp access was attained with little difficulty in those days. During work party days, it was not unusual to be visited by members of the 62nd Security Police. They would begin by investigating the open clamshell cargo doors, but would usually finish by receiving a guided tour from a proud volunteer. Chuck had no reservations about parking his distinctive pick-up truck right under the wing of -0994. It was identified by the custom license plates sporting, 'CHUXTRK.' The Security Police became familiar with 'CHUXTRK'.
Chuck served as Crew Chief of the C-124, and eventually 0994 began to clean up well. The first paint job was financed and completed by museum volunteers, under the supervision of Chuck. Once she was presentable, they began to be invited to many parties.
The museum C-124 was the site of many retirement and re-enlistment ceremonies. Chuck and the C-124 crew staffed the aircraft for every McChord Air Show. The clamshell cargo doors would be opened wide, ramps brought down, and safety stantions inserted. Because of the diligence of Chuck and the dedicated C-124 crew, literally tens of thousands of visitors got a brief glimpse of what the Air Force was before all those shiny, ultra-modern jets. The aircraft and crew attained a safety record seldom achieved by any display aircraft.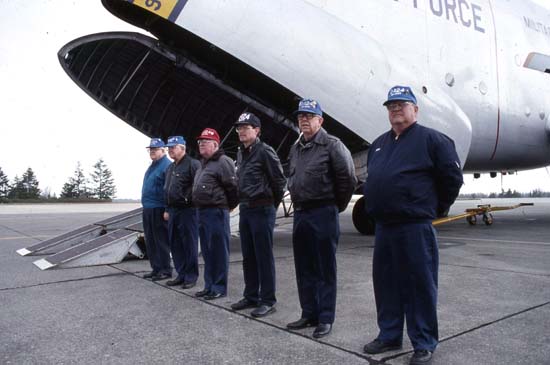 Chuck stands at the head of the line of the McChord Air Museums C-124 Crew, the junior member of the crew, Chuck's son Gary stands in the middle.
In 1991, Chuck even recruited a specific crew member, his son Gary. I had served as an occasional volunteer previously, when they needed a tunnel rat to get into tight spaces on the aircraft. Now however, I was an official member of the crew, the only father-son volunteer team on the McChord Museum staff. 'Chucks Kid', as he was known, was frequently seen walking a respectful step behind Chuck. Or not. I continue to volunteer with the museum, in several different capacities.
When the MAC Rodeo was held at McChord in 1994, a new visitor was to be featured, the C-17 Globemaster III. The 62nd Wing Commander, General 'Buck' Marr decided that the C-124 Globemaster II was to be the Rodeo Centerpiece. The theme was to be Globemaster II meets Globemaster III. With the assistance of General Marr, the exterior paint on the C-124 was given a touch-up. The interior was given a total Hollywood-type makeover. General Marr brought in a crew that completely rebuilt the interior of the cargo deck, fluorescent mood lighting was temporarily installed, a carpet covered the cargo deck, and cocktail tables were brought in. The airstairs on both man-doors on either side of the fuselage, completed the transformation of -0994 from a C-124, into a VC-124 as Chuck called it.
That year, 0994 was host to many USAF dignitaries, including Secretary of the Air Force, Sheila Widnall. Several Medal of Honor recipients were kind enough to visit during the 1994 Rodeo also, as well as representatives of air forces throughout the world, -0994 was the most photographed aircraft of the 1994 MAC Rodeo. Since then, 0994 has been converted to a more traditional configuration, but has dressed up for other dignitaries on occasion.
Chuck's C-124 made a great backdrop for the main stage during McChord's first Airlift Rodeo in 1994.
Not long after the Rodeo, 0994 was host to another celebrity; James Doohan, better known as Federation Engineering Officer Montgomery Scott from the USS Starship Enterprise. As a retired Flight Engineer, Chuck had lots in common with Engineering Officer Scotty. They were both gracious enough to pose together for several photographs around the Engineers Console on the C-124. Sadly, James Doohan is no longer with us, but memories of his visit will never be forgotten.
In between the yearly air shows, and MAC or AMC Rodeos, Chuck and his crew would open up the C-124 for literally dozens of groups of visitors. Everybody from Cub Scouts to Tuskegee Airman got a glimpse of how the USAF was in earlier days.
In 1999, McChord received the first of its newest mission aircraft, the now-Boeing C-17, naturally -0994, Chuck and his crew were invited to the party. With this assignment -0994 was again converted to its VC-124 configuration. Visitors comparing the new Globemaster next to the vintage Globemaster could only marvel at the difference in technology.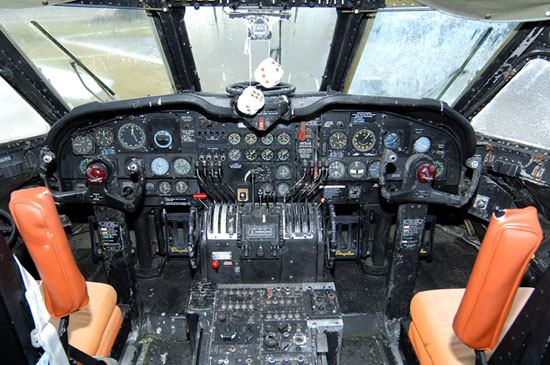 A sight that will not be seen in the future, the 50's era fuzzy dice hanging in the cockpit of C-124 -0994. After inspections deemed this area and other areas of the aircraft unsafe, due to aged instruments leaking low levels of radiation, which have since been removed. The cockpit has been permanently closed.
On September 11, 2001, McChord Air Force Base, and the world changed drastically. Not only was ramp access severely limited, but also was base access itself. Civilian visitors had a difficult time getting to the museum, and as a result, the numbers dropped drastically. America, and McChord was at war, and tight security was necessary. The tight security did severely hinder access to the C-124, which was still stationed on the ramp. Chuck and his crew had a nearly impossible task of getting to the aircraft to perform necessary maintenance. On an airframe that size, and vintage, deterioration and corrosion was inevitable without constant attention. Because of the size of -0994, moving her to the museum airpark was not possible. She remained locked out on the ramp with her partner, a Lockheed C-141 StarLifter.
To improve access for crew and visitors, Chuck was agreeable to the proposal of relocating the C-124 to Heritage Hill, overlooking the runway ironically, very near to the site of the original McChord Air Museum building. After another fresh coat of paint, courtesy of the Base's Corrosion Control Crew, -0994 was moved to, 'the Hill,' on a very cold January 4, 2005. Chuck was on-hand to monitor the move. This airplane was his personal responsibility since even before she came to McChord, and very few active duty USAF personnel have experience towing the C-124.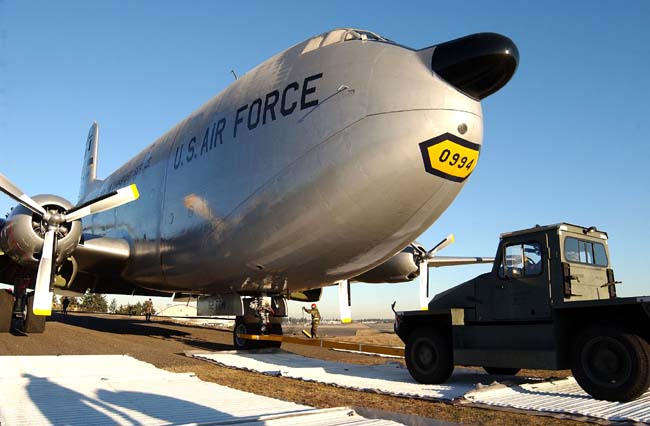 On a cold January morning in 2005 members of the 62d Maintenance Squadron and McChord Air Museum tow C-124 -0994 to its new home on Heritage Hill. For additional photos visit the "Move to the Hill" page.
Thankfully, the ground was frozen solid enough to support the C-124, and the airplane was moved without incident, the move took a toll however. Later that month, Chuck entered Tacoma General Hospital for a cardiac bypass, it was rumored that the move, and the bypass were related. Chuck recovered from the bypass without complications, and resumed his role as C-124 Crew Chief. With access to the airframe, restoration work resumed. On Heritage Hill, -0994 continued to host air shows, and AMC Rodeo events. Eventually, all the museum aircraft were relocated to the hill. The Rodeo evening events would often center around the Museum aircraft. Tent City was erected for every Rodeo, and literally surrounded the museum aircraft collection.
In 2009, the C-124 hosted its last AMC Rodeo. USAF officials decided that the radium instruments on the flight deck presented a radiation hazard to the crew and visitors. The flight deck was completely declared, 'off limits,' and access to the rest of the airframe was severely limited. At subsequent air shows, and rodeos, countless visitors would continue to ask when the C-124 would be opened up for visitors. Sadly, they would be disappointed.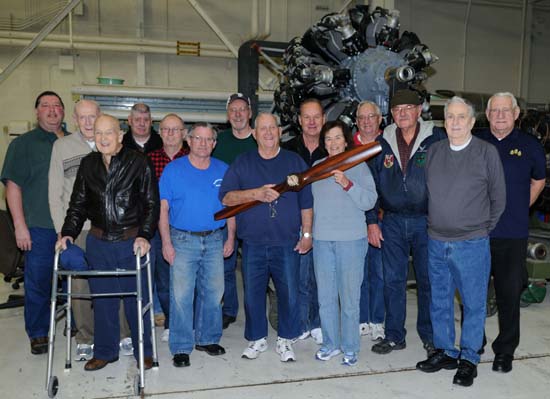 With is retirement propeller in hand, Chuck stands with his crew on his last day as "Hangar Boss" at the Museums Restoration Hangar.
With access to his beloved C-124 restricted, Chuck spent his days at the museum restoration hangar. The interior to the C-124 was closed, but there were still plenty of aircraft that needed his experience and expertise. He and his hangar colleagues would meet over coffee in the morning, and plan their strategy for the day. Chuck would serve as liaison between hangar volunteers, and the museum administration, and this arrangement keeps the restoration efforts coordinated and smooth.
Also, many of the original C-124 crew members eventually succumbed to old age, and duty-related medical conditions. With their passing, valuable experience and knowledge was lost forever. Chuck even lost his favorite C-124 volunteer in 2003, his beloved wife, Charlene. She was faithfully at his side at many air shows since the C-124 first arrived. They had been married almost 50 years.
Recently, Chuck surprised everybody with a lightning bolt that could only come from Chuck. While returning from a squadron reunion, he met a pleasant widow named Doris. It didn't take long for them to decide they wanted to spend the rest of their lives together. They would not be remaining in Washington. It would be necessary for Chuck to retire from serving McChord.
He arrived at McChord Air Force Base as a young Staff Sergeant in 1964. He remained in the area after his retirement in 1974 as a mature Master Sergeant. He immediately began to serve at the McChord Air Museum, and after 49 years of serving, retired from JBLM McChord Field. He had gone from an era of piston-engine propeller aircraft, to fly-by-wire, ultra-modern jet aircraft.
Chuck left McChord better than he had found it. His legacy will be remembered every time somebody looks at his C-124. Godspeed Chuck Bowen, and good luck. May you enjoy every minute of this next chapter of your life.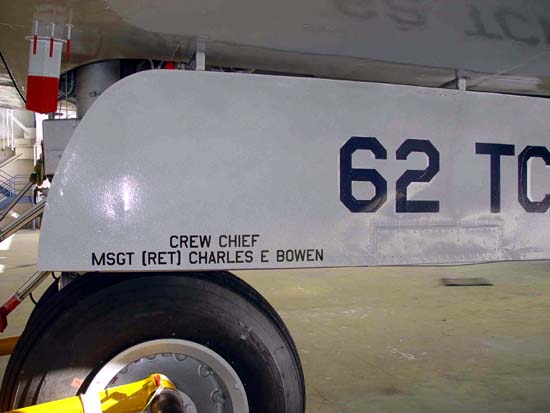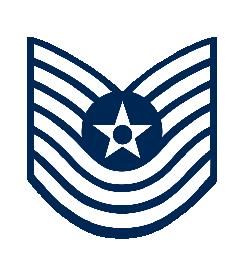 Website provided and maintained by:
The McChord Air Museum Foundation
P.O. Box 4205
McChord AFB, WA. 98438-0205
253-982-2485
e-mail - mamfound@mcchordairmuseum.org